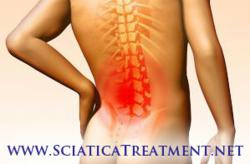 San Diego, CA (PRWEB) March 05, 2012
Every day, millions of Americans are inflicted with the pain known as sciatica. It inhibits their ability to perform work responsibilities and often makes recreation impossible. But knowledge is power, and the website, sciaticateatment.net is introducing a question and answer board to allow those inflicted with sciatica to share their knowledge on what has worked for them.
Sciaticatreatment.net realizes that by sharing information, sufferers of sciatica pain may stumble upon a tried and true solution that has worked for someone else and just may work for them.
Sciatica is a word used to describe pain due to compression or irritation of the sciatic nerve. The sciatic nerve is the largest nerve in the body and runs from the buttock down the back of the leg. It is a branch off several of the lumbar and sacral nerve roots. If lumbar stenosis is present, or a bulging disc, pressure on the nerve root is transmitted to the sciatic nerve, causing pain. The sciatic nerve may also become entrapped in the piriformis muscle. The piriformis muscle is a small muscle that lies horizontally, under the larger, gluteal muscles.
The causes of sciatica may arise from a job that requires constant sitting, an injury to the buttocks, such as falling on ice, or strenuous exercise, especially running or bicycling.
Symptoms of sciatic nerve pain may include lower back pain, sharp pain in the buttock, and pain with sitting. It may also include numbness, pain and tingling in the leg.
Sciatica treatment includes rest and ice initially. It is important to avoid the activities that aggravate the nerve pain, such as sitting. Once these measures have been attempted, physical therapy for sciatica should be initiated. The first step the physical therapist will employ is deep tissue massage in order to relax the back and pelvic muscles. Once the muscles are relaxed, sciatica exercises are initiated, which usually include piriormis stretches. Surgery is employed as the last resort.
For more information on causes and treatment for sciatica, or to ask a question, check out sciaticatreatment.net and look for the new questions and answers forum.