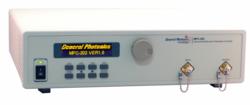 The MPC-202 generates test patterns at rates beyond 360 kRad/sec to accommodate the most stringent tests of coherent receivers.
Los Angeles, CA (PRWEB) March 05, 2012
General Photonics, a market leader in optical polarization measurement, announced today a new Multifunction Polarization Controller targeted at developers of coherent detection systems. According to General Photonics president Dr. Steve Yao, "Polarization in optical fiber can change at rates up to 280 kRad/sec. Such sudden changes occur when a fiber is suddenly jarred, and receivers must be capable of compensating. The MPC-202 generates test patterns at rates beyond 360 kRad/sec to accommodate the most stringent tests of coherent receivers."
The MPC-202 uses cascaded sets of piezoelectric actuators under microprocessor control to change the polarization and generate a variety of complex polarization patterns. Most notably, the instrument creates a "worst case" condition for test engineers with a new test methodology called "Tornado" scrambling. In "Tornado" mode, the instrument generates tornado-like polarization variation traces, at a rate concentrated at the highest end of the rate histogram, the most difficult condition for communication systems to manage. The MPC-202 also provides several more traditional polarization scrambling patterns, such as continuous-trace scrambling with a Rayleigh distribution of polarization variation rates to emulate the behavior of real long-haul fibers.
Technical Specifications
The MPC-202 operates between 1260 and 1650 nm. It has four modes of operation: Scrambling (including Tornado), Manual, Modulation and Triggered. The MPC-202 can be fully controlled from the front panel or from one of four remote control interfaces.
Availability and Live Demo at OFC 2012
The MPC-202 will be demonstrated at OFC / NFOEC at the Los Angeles Convention Center. Visitors to the event may stop by General Photonics' booth #1448 for a product demonstration March 6-8, 2012, during show hours. The product will be available in 8-10 weeks. Purchasing details and additional specifications can be made available by contacting General Photonics via email at sales(at)generalphotonics(dot)com.
About General Photonics
Founded in 1995, General Photonics is an award-winning manufacturer of advanced optical polarization modules and instruments. The company holds numerous patents on photonic designs, and its staff has authored a number of published articles on polarization and delay control. Customers include research organizations, manufacturers of communication systems, aerospace companies and medical system manufacturers.
The company is privately-held with headquarters and manufacturing facilities in Southern California. A design, engineering and technical support center is located in Beijing, China. Sales worldwide are conducted through a network of distributors and representatives. More information can be found at the company's website, http://www.generalphotonics.com.
References to corporate, product or other names may be trademarks or registered trademarks of their respective owners.