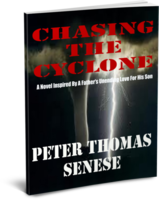 Chasing The Cyclone is the cornerstone of the I CARE Foundation's educational tools used to educate policymakers of the growing crisis of international child abduction . . . Peter Thomas Senese
Los Angeles & New York (PRWEB) March 04, 2012
Chasing The Cyclone author Peter Thomas Senese announced today plans to distribute copies of his critically acclaimed legal thriller on international child abduction to members of Congress and members of key government agencies to coincide with the I CARE Foundation's efforts to educate and mobilize policymakers in order to pass new legislative initiatives that will protect children from international abduction.
Senese commented, "The I CARE Foundation has been working on creating new federal legislative policies that may dramatically reduce the number of international child abductions our nation faces. Presently, if the trend of abduction continues, there will be as many as 100,000 children criminally international stolen. This is absurd. However, if we are able to modify the Western Hemisphere Travel Initiative policy while also creating a unilateral security screening list for high-risk abductors similar to the Prevent Departure Program, while of course, continuing our efforts to educate the judiciary, then we will substantially lower the child abduction rate. Education of policymakers is key. Recently, I have distributed review copies of Chasing The Cyclone to certain members of Congress and other administrators charged with oversight of key government agencies in order to give them opportunity to understand what it is like to chase the cyclone of abduction. To my surprise, numerous additional requests for review copies have occurred. So, the I CARE Foundation is going to distribute several review copies to each member of Congress in hope that perhaps they, like other members of Congress, will read Chasing The Cyclone and understand the size and scope of the problem facing our nation's children. Fortunately, even members of Congress read - and with various book critics sharing generous commentary about Chasing The Cyclone, members of Congress are in fact picking up the book exclusively through Amazon for their Kindle or requesting advanced review copies, reading, and educating themselves. It is a very big step."
CHASING THE CYCLONE, Peter Thomas Senese's recently released novel available on E-book that will be released next month in hardcover that critics and parents are praising as a spectacular call-to-arms against international child abduction and a gripping legal thriller that raises the bar on society's understanding of this devastating epidemic, and an absolute must-read for the growing number of parents at risk of having their child abducted overseas by the other parent: a phenomenon that will targeted millions of North American citizens over the next decade. Pacifica TWST and Mr. Senese have announced that 'Chasing The Cyclone' will be released in Spanish, Italian, and French on the late Spring of 2012l.
The New York Journal of Books said of Chasing The Cyclone, "Chasing The Cyclone is a well-written thriller . . . Senese shares myriad emotions by writing in the first-person as he weaves through the action in this suspense-filled story . . . This novel might also be considered a treatise on international child abduction. Cyclone, while full of actual strategies and resources to assist parents in international abductions, is above all else a love story about a father and son ... From Los Angeles, to Canada, to New Zealand, and eventually, Macau, a special administrative region of China, Cyclone is rife with international intrigue and suspense. The protagonist, Paul Francesco, orchestrates a master plan that he hopes will reunite him with the love of his life - his son. Along the way he finds himself swamped in red tape and drenched in frustration. Filled with a plethora of powerful characters and puzzling predicaments and dead ends, the story moves quickly . . . Cyclone will leave you informed and satisfied . . . you will be reluctant to put down."
The Examiner stated, "Peter Thomas Senese is a gifted storyteller who takes readers on a heart pounding journey around the globe through the eyes of Paul Francesco, a father whose 7-year old son is abducted by his mother. The writing is raw and the emotions are real . . . The story is filled with twists and turns that will leave readers scratching their heads, seething in anger, and hugging their children a little tighter . . . I highly recommend Chasing the Cyclone as a must-read. You will not be able to put it down. It may very well change the way you look at life, child custody, and interactions with your child's other parent. I cannot endorse this book strongly enough."
Peter Thomas Senese's inspirational legal thriller is one that perhaps few other writers could have written with such intimacy, familiarity, and depth of understanding: it is a story of a father doing everything possible to find and reunite with his internationally abducted child that is Peter Thomas Senese'sCHASING THE CYCLONE which is heavily inspired by the writer's own experience chasing into the cyclones of international child abduction. Since his own experiences ended, and fulfilling a promise that he made, Mr. Senese has had a significant impact on creating various tools to assist targeted children and parents, including the creation of The I CARE Foundation, a not-for-profit organization dedicated to stopping child abduction that has successfully reunited numerous internationally abducted children with their parents, or has assisted in the prevention of an abduction. In fact, Peter Thomas Senese is donating 100% of his author royalties to the I CARE Foundation. One of the major successful undertakings of the I CARE Foundation's is the public campaign to build the Department of State's Hague Convention Attorney Network of pro bono lawyers willing to assist targeted children of abduction,
Many of Amazon's renown HALL OF FAME reviewers are praising Peter Thomas Senese's recently released international legal thriller CHASING THE CYCLONE as an electrifying story fans of high suspense legal thrillers readers and every loving parent must read.
Amazon Hall of Fame book reviewer Daniel Jolley commented, "Chasing The Cyclone" isn't just a powerful novel; it's a call to arms against a growing epidemic that is tearing lives apart behind the headlines... I would go so far as to encourage every loving parent to read this book, as the bond between this father and son is one to be emulated..."
Dr. Grady Harp, a highly respected Amazon Hall Of Fame book reviewer said, "Peter Thomas Senese now opens the windows on the magnitude of these tragedies in his excellent "Chasing The Cyclone"... Senese demonstrates his quality as a writer of distinction on many levels... this impossible to put down book..."
In his ongoing effort to assist parents and children targeted for abduction, Peter Thomas Senese is donating 100% of his author royalties earned from 'The Den of the Assassin', 'Cloning Christ', 'The World Turned Upside Down', and 'Chasing The Cyclone' to the I CARE Foundation.
# # #