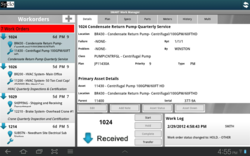 Syclo SMART Mobile Suite is the number one mobile software for IBM Maximo.
Hoffman Estates, IL (PRWEB) March 05, 2012
Syclo, a market leader in enterprise mobile software, today announced at IBM Pulse 2012 that the Syclo SMART Mobile Suite For Maximo is now available for Apple iPhone, Apple iPad, Android smartphones and Android tablets. Syclo has deployed mobile for more than 400 IBM Maximo enterprise asset management software customers on Syclo's Agentry Mobile Platform. Syclo is the only vendor that provides mobile solutions for IBM Maximo that work with all major devices whether connected online or not.
By delivering native applications without the need to maintain separate code sets for each device, Syclo has solved one of the greatest challenges of today's mobile enterprise. As users deploy increasingly diverse applications to corporate users and consumers, the need to support more devices and provide a high level of user experience becomes paramount. Syclo's SMART Mobile Suite, built on Agentry Mobile Platform, meets these needs by natively running on every major mobile platform to support all devices on the market.
"With the growing importance of mobilizing the workforce and the consumerization of IT, our focus was, and is, on helping companies across multiple industries improve their businesses and impact the bottom line," says Rich Padula, president and CEO for Syclo. "These tenants have always been important for us in the Maximo community where we have been serving it for nearly 12 years. In fact, Syclo is recommended by IBM as the choice for complex implementations such as integrating to Maximo Industry Solutions, accessing multiple systems and leveraging advanced functions. In addition to being the leading solution provider of any company mobilizing Maximo, Syclo is also proud in the fact that we are the only provider mobilizing Maximo that offers Mobile Device Management (MDM) solutions."
Realizing a return on their investment within six months, users are confident in knowing that the Syclo platform delivers support across Windows, Windows Mobile, BlackBerry, iPhone, iPad, Android smartphones and tablets seamlessly. Customers get native applications without the need to maintain separate code sets for each device. Software designers get increased flexibility in configuring user interfaces to ensure that each application looks and behaves exactly as expected on each operating system. Syclo SMART Mobile Suite For Maximo works with IBM Maximo versions 4, 5, 6, 7 and 7.5.
Leading organizations that will be sharing their Syclo mobile experience at IBM Pulse 2012 are:

Lockheed Martin: "Rolling out a Global Maintenance Strategy across the Enterprise" on Sunday, March 4 at 5:15 p.m. - 6:00 p.m.
Amsterdam Airport Schiphol: "How Schiphol Uses Maximo and Maximo Mobile to Develop Performance Based Asset Management in a Highly Outsourced Maintenance Environment" on Monday, March 5 at 2:00 p.m. - 3:00 p.m.
Stanford University: "Winning the Mobile Device Rodeo" on Tuesday, March 6 at 10:00 a.m. - 11:00 a.m.
City of Ottawa: "How the City of Ottawa is Building Its EAM Strategy with Maximo" on Tuesday, March 6 at 2:00 p.m. - 3:00 p.m.
Northern Ireland Electricity: "Maximo and Syclo: Mobilizing an Electric Utility" on Tuesday, March 6 at 5:00 p.m. - 6:00 p.m.
You can visit Syclo at booth #G310 at IBM Pulse 2012 to see demos of SMART Mobile Suite For Maximo running on all the devices. You can also see Syclo speak at the Mobility and Endpoint Management Stream, Leveraging Mobility Track "Go Native! Support Your Mobile Users on a Variety of Device Platforms with Ease" on Tuesday March 6th at 3:30 pm in Expo Theater 1.
Armed with Syclo's Agentry Mobile Platform, users can view, edit, complete and manage their assigned work orders faster and more accurately - improving productivity, asset longevity and overall operations.
Benefits regularly include:

Gain an average of 15-45 minutes of work time per technician per shift
Capture 100% of asset touches, parts/materials used, labor and more for every work ticket completed
Spend more time on your company's assets and ensure they're running at peak performance
Reduce overhead and administrative costs associated with paper work order management and data entry
Preserve an e-audit trail for full regulatory compliance and fine avoidance
About Syclo
Since 1995, Syclo has worked with over 750 organizations to create, deploy and manage a variety of business and consumer mobile applications. Syclo's software extends corporate systems and databases to a wide range of mobile devices and user types, helping companies cut costs, increase productivity and make better decisions across the board. Together, Syclo's Agentry platform and prebuilt SMART Mobile Suite applications present a flexible, reliable and cost-effective framework for enabling the mobile enterprise. You can learn more about Syclo at http://www.syclo.com
Syclo and Agentry are trademarks of Syclo LLC. All other trademarks are the property of their respective holders.
Copyright© 2012 Syclo LLC. All rights reserved. 07102901-907
Media Inquiries Contact:
Peter Nilsson
858.880.5466
peter(at)performpr(dot)com