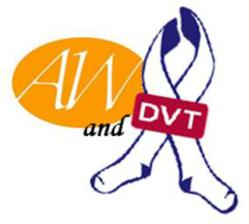 At Ames Walker, we value everyone's health and we are committed to providing the highest quality compression garments in the world at everyday low prices.
Asheboro, NC (PRWEB) March 06, 2012
Less than a month ago, the American College of Chest Physicians (ACCP) released a comprehensive report that debunked the adage that Deep-Vein Thrombosis (DVT) resulted from remaining in cramped quarters. What was known as "economy class syndrome" and initially attributed to sitting in the economy section of airplanes is actually caused by remaining stationary for extended periods of time. The new guidelines were made public right before the commencement of March's DVT Awareness Month.
The research explores the causes of DVT, a condition which occurs when a blood clot forms in the lower extremities and breaks away from the vein to cause a range of life-threatening complications. If the clot should reach the lungs, which is unnervingly common with DVT, a fatal pulmonary embolism may occur. The general public still remains rather misinformed regarding the causes of DVT and the preventative measures available. Less than 74% of Americans knew anything about DVT one decade ago even though over 2 million people suffer from it annually. Deaths of public figures, ranging from NBC news correspondent David Bloom to Hip-Hop artist Heavy D, have illustrated that this condition impacts a wide array of people and more research into its causes is needed.
The study states that the likelihood of developing DVT is rooted in being sedentary which causes a lack of blood circulation throughout the extremities. This research indicates that the reason DVT occurrences are higher in the "economy-class" is that there is less room to move about, thus increasing the risk for deep-vein blood clots to develop. While flexing the calves and stretching have been suggested for all passengers, the ACCP also suggested that any at-risk travelers should wear below-the-knee travel compression socks.
An unnerving statistic is that the number of people "at-risk" is roughly 200,000 of the 2 million people it impacts annually. There is a 6% mortality rate among this group within one month from diagnosis. In response to this new research, AmesWalker.com has released a special price on their travel compression socks for the entire month of March in hopes that providing the product at an affordable price will provide people with an opportunity to take care of themselves. Ames Walker is a global company which specializes in compression stockings and diabetic hosiery. Their signature travel compression socks use gradient pressure to reduce the swelling of the feet which can help prevent deep clot formation. "At Ames Walker, we value everyone's health and we are committed to providing the highest quality compression garments in the world at everyday low prices. By keeping the prices low on our AmesWalker brand products, we are confident that we improve the willingness to purchase the products, which hopefully saves lives! There is a common misconception that compression garments are "medical looking" but in fact our compression products range from everyday trouser socks, to tights and sheer pantyhose of all colors-no one will even know you are wearing compression."
AmesWalker.com has always known that the condition impacts everyone including politicians, performers and athletes such as Serena Williams. "We want the public to know their options when it comes to possible DVT prevention." More educational documents and in flight stretching tips can be found throughout AmesWalker.com and entering promotional code DVT12 provides a 20% discount on both Men's & Women's AW travel socks for the month of March 2012. Aside from providing medically recommended preventive products, the company hopes that visitors will use the site to become well informed about the subtleties of DVT so no one has to suffer from the consequences of remaining ill-informed.
About Ames Walker International, Inc.
Ames Walker Support Hosiery is an international company based in Asheboro, NC and founded in 1995. With a customer base of over 250,000 people worldwide, Ames Walker has had an online presence for almost 15 years. Brands supplied by the site include Ames Walker brand, Jobst, Sigvaris, Venosan, Juzo, and Futuro Brands. The company has made a name for itself as a specialist for compression and diabetic hosiery.
For more information please visit http://www.ameswalker.com or for customer service, call 1-877-525-7224.
# # #