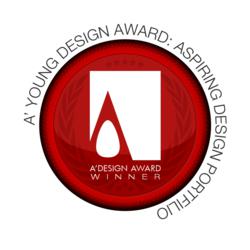 Future Design Stars will be Highlighted.
Como, Italy (PRWEB) March 05, 2012
Today, A' Design Award & Competitions announced an open call for entries for the "Young Design Award", unlike other design awards and competitions, the Young Design Award considers the whole design portfolio of entrants for evaluation rather than specific projects.
The award is open to entries from young architects, freelance designers, upcoming artists, design students, newly opened design studios and fresh graduates. Manufacturers, professional design studios, mature creative agencies, famous advertising agencies, renowned architectural offices, and preeminent product engineering consultants are not eligible in order to let the young talents to fairly compete within their class. Prospective participants can apply online at adesignaward.com.
Aspiring participants could submit their portfolio or works composed of both realized and concept-stage designs. Entrants who would like to highlight their design portfolio and their creative skills are invited to join the award by nominating their works by submit a PDF presentation of their portfolio up to 40 pages together with five of their best designs to be used for communication and marketing.
The portfolios of the aspiring participants will be judged by the awarding criteria that checks five key points such as originality, consistency, in-depth thinking, innovation and presentation of the overall composition of the portfolio. Furthermore, each of submitted designs will be evaluated by the jury based on the different category that they might be part of.
The award was designed to attract the attention of larger studios and agencies to upcoming designers and architects by means of creating publicity and dissemination through multiple channels. Winning entries will receive free communication and publication services from A' Design Award in addition to the award trophy, certificate, badges, logo and other services that are provided to award winners.
Human resources managers are especially suggested to follow the results of the "Young Design Award" to have a chance to employ the best young talents who would be the design stars of future.
Unlike any other international juried awards in design, winners are not obliged to make any further payments for winning the award and each of the services listed in the winners benefits page at adesignaward.com will be provided free of charge, with a single-time nomination fee of 375 Euros.
A' Design Award is organized in many diverse categories therefore the prospective winners of the A' Design Award can expect to reach an audience that is wider than their own niche: the award not only reaches the specific media in design industry, but more importantly, it reaches a wider, design oriented public such as managers and executive officers of other brands.
About the A' Design Award: The A' Design Award & Competition is an annual international design award and competition aiming to highlight design oriented products, services and offerings. A' Award present its winners with publication and advertising opportunities. Further information regarding the award could be accessed at: whatisadesignaward.com