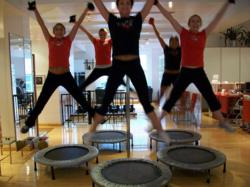 Smart Workout's fitness vacations use the sights and attractions of New York City, as places to work out, lose weight, and have fun!
New York, NY (PRWEB) March 06, 2012
Smart Workout celebrates spring in New York with fitness walks covering the full length of the High Line Park; the paths of the New York Botanical Gardens (when guests visit the Orchid show) and the streets surrounding Times Square ("the Great White Way") before taking in an evening of theatre.
The fitness vacations also offer Smart Workout's signature selection of small group exercise classes (never more than 6 people in a class), which include Pilates on the Reformer machine, TRX Suspension Training, Kettlebells, WAVE, Zumba, Airopes, Kickboxing, Hula Hoop, Cheerleading, Yoga, Spin, Ballet Burn, Broadway Blast, Indoor Rowing and many more.
The Fitness Vacation days provide cooking demonstrations, nutrition talks and indulgent spa services.
In the evenings, guests are taken to world class restaurants where dinners have been preselected to combine low calories with the culinary skills of master chefs.
Dinner is followed with trips to Dance Centers where guests shake their booties to the rhythms of salsa and swing (lessons are provided) and trips to museums, to walk off calories while viewing fascinating exhibits of art and culture.
Smart Workout's tours are fully escorted and "all inclusive" with activities planned for every moment of the guest's stay. The package price covers every expense, including taxes and gratuities.
Guests from the New York City metropolitan region can be "on vacation" in minutes instead of having to spend precious vacation time traveling to destinations many hours away.
Packages are offered for two nights (Fri thru Sun, or Sun thru Tues); three nights (Tues thru Fri); and for the full week (7 nights).
For further details and information, please visit http://www.smartworkout.net/fitnessvacation.