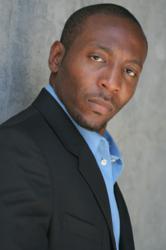 "I thoroughly enjoy the triple threat of acting, producing and directing."
Los Angeles, CA (PRWEB) March 06, 2012
Choice Skinner's recent success in film and television has propelled Darkan Entertainment to become an official business.
The idea was conceived in 2010 and become official Feb. 14.
"I thoroughly enjoy the triple threat of acting, producing and directing," Skinner said.
Skinner has directed and co-produced three short films entitled "Brotherly Love", "Selling It" and "In the Mourning." He has also directed a web series entitled "The One Percent".
Skinner is completing a short film thriller, "Torment", and will shoot an action short film entitled "Alexus" this summer.
The company's first feature film, "The Donor", will be directed by Skinner and co-produced with Tony Germinario this fall. The project is a joint venture with Vincenzo Productions, LLC.
Skinner's film "Brotherly Love" won a Gold Award for Best Short Film at the California Film Awards on Jan. 28, a best actor award for Skinner as "Abraham" at the San Diego Black Film Festival on Jan. 28, and an Award of Excellence at IndieFest Feb. 11. The film also was nominated for Best Short Film at the Texas Black Film Festival on Feb. 1.
The film "Selling It" has been accepted to the Sene Film Festival in Providence, RI April 11-15.
"The One Percent" web series has been accepted to the Hollyweb Web Series Festival in Hollywood, CA March 31 and the LA Webfest April 6-8.
Darkan Entertainment is an entertainment company dedicated to producing film and media in the California area. The company's projects will include redemptive and empowering themes, something that seems to be missing in today's market, Skinner said.
Darkan Entertainment's will focus on developing quality productions that can be made with modest budgets but have huge and favorable return on investments for investors and financiers.
The company is owned by Skinner and operated and managed by Skinner and Vice President Farley Jackson.
"I look forward to following the entertainer's model of pro activity provided by George Clooney and Roger Corman but also creating content that stars talent of all ethnicity," Skinner said. "Cranking out at least three projects a year will be splendid in my book."
The "Brotherly Love" trailer can be viewed on YouTube.
More clips and videos are available for viewing at Darkan Entertainment's YouTube Channel.
For more information about the new entertainment company, contact CEO Choice Skinner at 818-997-1516, Darkan Entertainment's official website or visit Skinner's official Facebook page.
Vice President Farley Jackson can be reached at 323-833-2570 or farleyj@gmail.com. Jackson can be followed on Twitter @farleyjackson or contacted via Facebook.