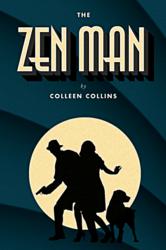 "I loved every word of The Zen Man!" Delores Fossen, USA Today Best-selling Author
Denver, CO (PRWEB) March 06, 2012
"Move over Sam Spade, Nick and Nora; make room for a Denver who-dun-it, Colleen Collins's The Zen Man. Brilliant and fast-paced writing. I couldn't put it down."
~ Donnell Ann Bell, Award-Winning Author of The Past Came Hunting
When multi-published romance and mystery author Colleen Collins became a Denver private investigator, then eloped with her detective-lawyer partner, it was inevitable she'd write a suspense novel featuring private eyes, a dead lawyer, enough attorney-suspects to fill a shark tank, and a fast-paced murder investigation that careens from the mountains of Colorado to the streets of Denver -- all laced with humor and romance.
Book Blurb
Just as washed-up criminal defense attorney, life-long Deadhead (nickname "The Zen Man"), and current PI Rick Levine decides to get relicensed as a lawyer, he's charged with killing one and ends up in the slammer with a half-mil bail.
Released on bond, Rick and his girlfriend Laura have 30 days to find the real killer. In the course of their investigations, they dig for dirt among Denver's shady legal backrooms to its tony corporate centers. Dodging bullets, a kidnapping, trumped-up charges and the FBI's unwanted intervention, Rick and Laura continue tracking key suspects who have motive...eventually learning that true redemption begins at home.
To read an excerpt, click here.
Buy The Zen Man
The Zen Man is available as an eBook from Amazon, Barnes & Noble, and Smashwords. Still only 99 cents! No ereader? No problem. Both Amazon and Barnes & Noble offer free, easy-to-download apps for reading The Zen Man on PCs, Macs, iPhones, iPads, and other devices, as well as in Web browsers. Alternatively, Smashwords also offers text and pdf downloads.
Books on Private Investigations by This Author
The following nonfiction books by Colleen Collins offer tips, techniques and resources about the world of private investigations:
How Do Private Eyes Do That? available at Amazon and Barnes & Noble. "If you're looking for the low-down on private investigations, this is it. Packed with details and insights. A must-have for anybody writing private-eye fiction and for anybody who's curious about what being a private-eye is really like." - Bill Crider, author of the Sheriff Dan Rhodes series and many other novels in multiple genres
How to Write a Dick: A Guide for Writing Fictional Sleuths from a Couple of Real-Life Sleuths, co-authored with Shaun Kaufman, available at Amazon and Barnes & Noble. "If you're an armchair sleuth or a writer of mysteries, this book is a wonderful resource; full of helpful insights, tips, and entertaining anecdotes." - Mario Acevedo, best-selling author