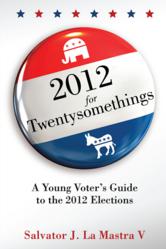 Facing an economy in decline, a bleak job market, and runaway deficit - the 2012 election is more consequential for young voters than ever before.

Karl Rove, former senior advisor and deputy chief of staff to President George W. Bush
Dallas, Texas (PRWEB) March 08, 2012
New Book "2012 for Twentysomethings: A Young Voter's Guide to the 2012 Elections"(Brown Books Publishing Group) by Salvator J. La Mastra V provides valuable information for the youth vote, who for the most part will determine the outcome of the 2012 presidential election.
In "2012 for Twentysomethings" La Mastra speaks directly to the voters of his generation, laying out the hot issues and each party's stance on them for the upcoming election.
Unemployment, health care reform, entitlement programs, and taxes are just a few of the many issues he addresses.
"La Mastra's explanations of these issues will resonate with the young audience, effectively combating the disinterest in current events that results in voter apathy," says Trenton Garza, president of Baylor Democrats. "This guide is precisely the resource those organizing the youth vote in 2012 need to achieve such a task."
"Facing an economy in decline, a bleak job market, and a runaway deficit that threatens their future, the 2012 election is more consequential for young voters than ever before," says Karl Rove, former senior advisor and deputy chief of staff to President George W. Bush.
Picking a leader at the ballot box can be a difficult choice – it's hard to sort out fact from fiction and doublespeak from sincere promises, especially with the bias in today's media.
Adds Lance Kennedy, former state chairman, Texas College of Republicans, "As a twentysomething, I know the importance of being politically informed. Sadly, most people my age are ignorant of the issues of our day."
Dedicated to the reader, "2012 for Twentysomethings" provides the necessary information to help the youth vote make choice decisions when the time comes to cast their presidential vote in 2012.
"'2012 for Twentysomethings' is a must-read primer for any young adult new to the political process," says Jonathan Boos, president of the Dallas County Young Republicans. "La Mastra provides unbiased, nonpartisan information on the issues facing our nation for the 2012 elections."
To learn more visit: http://www.2012ForTwentysomethings.com
# # #