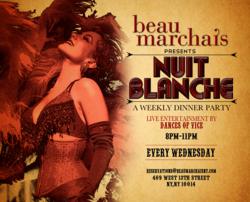 Beaumarchais offers a dining experience that is alive with conviviality and Parisian charm.
New York, NY (PRWEB) March 05, 2012
On March 7th, Dances of Vice brings their signature menagerie of glittering showgirls and exotic performers to the ultrachic Beaumarchais for the launch of a new weekly dinner cabaret and burlesque show, "Nuit Blanche Wednesdays".
With a new brand new show in store each week, the night's debut takes you to the casinos of Vegas with a classic burlesque show, followed by a decadent "Exotic East" show on March 14th, a 1940s USO themed celebration on March 21st, and a wild Balkan and gypsy themed night on March 28th.
The night will feature three sets of glamorous performances between 9-11pm, leading the way into an all-night dance party with DJ Eve Salvail that lives up to the event's name of a white, or sleepless, night.
Reserve a table for dinner between 8-11pm or step in for delicious cocktails and enjoy the show from the bar. For reservations, call 212-675-2400, or email reservations(at)beaumarchaisny(dot)com.
Beaumarchais, 409 West 13th Street, New York, NY 10014.
# # #