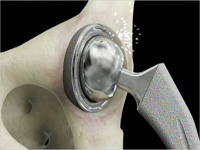 The mounting evidence revealing these manufacturers were aware of these dangers is egregious! My clients have suffered unnecessarily!
(PRWEB) March 05, 2012
Poorly regulated and potentially dangerous metal hip implants may have exposed hundreds of thousands of patients to toxic substances, reveals a British Medical Journal (BMJ)/ BBC Newsnight investigation. According to this investigation, the failure rates of resurfacing in women and of metal-on-metal total hip replacements in both sexes are higher than they should be.
Metal hip implants, which have been found to release particles of the chromium-cobalt alloy as the metal parts wear against each other; include Johnson & Johnson's DePuy ASR and Pinnacle, Smith and Nephew's Birmingham, Zimmer's Durom, Wright Conserve and Wright Profemur. According to this investigation, the release of the chromium-cobalt particles can cause tissue and bone death and possibly expose patients to the risk of developing cancer or altering their DNA.
According to the report, although metal implants have been used successfully in orthopedic surgeries for years and these devices are known to release metal ions, some metal-on-metal prostheses do so on a much greater scale than previously thought. These ions can seep into local tissue causing reactions that destroy muscle and bone and leaving some patients with long-term disability, according to an Oxford study released in August 2009.
Multiple studies and research organizations have warned about the carcinogenic potential of metal-on-metal hips. Additionally, scientific journals have reported for well over 30 years that cobalt and chromium ions lead to genotoxic changes both in laboratory settings and in animals. However, the link to cancer is not proved, according to the subject investigation.
BMJ/ BBC Newsnight reported that the manufacturers were aware of the potential of genotoxicity, citing a DePuy internal memo from July 2005 that says, "In addition to inducing potential changes in immune function, there has been concern for some time that wear debris may be carcinogenic. The mechanism is not known and only 24 local malignancies have been reported in patients with joint replacements. Also worrying is the possibility of distant effects. One study suggested a threefold risk of lymphoma and leukemia 10 years after joint replacement. The metal-to-metal total hip appears to be quite promising and in the laboratory the data is (sic) definitely in its favor. However, the ultimate test is the long term human experience."
Despite this uncertainty, DePuy continued to market the metal hips with promotional material failing to reflect internal company concerns, reports BMJ. Rather, in 2006 the sales teams were equipped with a paper entitled, "Setting the record straight on metal hypersensitivity," written by one of DePuy's prosthesis designers, Los Angeles orthopedic surgeon Thomas Schmalzried, to counter emerging concerns on the topic.
Then 2009, Japanese surgeons contacted DePuy to report "generated metal debris between stem taper and head, and final necrosed tissue" with the Pinnacle device, according to a DePuy internal email. As late as 2010, senior DePuy engineers were still trying to ascertain why the implants were failing, 5 years after a spate of industry-wide re-designs aimed at reducing metal ion release.
And then interestingly, a trial published in 2011 comparing metal-on-metal systems and conventional hip replacements made by Smith & Nephew was stopped after 2 years, when 20% of patients in the metal-on-metal cohort showed higher metal ion concentrations.
"The mounting evidence revealing these manufacturers were aware of these dangers is egregious! My clients have suffered unnecessarily," responded attorney David Ennis of Ennis & Ennis, P.A.
Ennis & Ennis, P.A. recommends that anyone with a DePuy Hip Replacement or any other metal on metal hip implant system, who is experiencing pain in the groin, hip or leg, swelling at or near the hip joint, or a limp/change in walking ability, first seek medical attention. Then file an adverse event report with the FDA at https://www.accessdata.fda.gov/scripts/medwatch/medwatch-online.htm. Lastly, consult with an experienced attorney.
Ennis & Ennis is offering free, nationwide, confidential consultations to anyone who has a metal hip replacement system by calling toll free 1-800-856-6405 or by going to http://www.ennislaw.com and completing an online case evaluation form.
Ennis & Ennis, P.A. is a nationwide law firm with offices in Ft. Lauderdale, Miami and Washington D.C. that concentrates its practice in mass torts and represents individuals against pharmaceutical companies and medical device makers.
Ennis & Ennis, P.A. has been representing clients individually since 1986 and has recovered over $100 million in settlements for its clients.
Ennis & Ennis, P.A. is also investigating cases involving Accutane, Actos, Avandia, Fosamax, Paxil, Plavix, Pradaxa, Zoloft/Birth Defects, Prozac/Birth Defects, Zimmer Hip Recall, Wright Conserve Hip Implant, Wright Profemur Hip Implant, Depakote, Reglan, SJS/Dilantin, Yaz, Yasmin and Ocella Birth Control Pills.
Remember the law limits the time in which you can file a claim, so don't wait to explore your legal rights. Call today toll free 1-800-856-6405 or visit http://www.ennislaw.com.