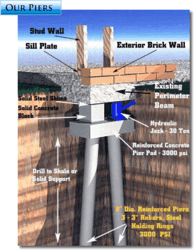 Delaying the foundation repairs may most likely increase the overall cost.
Dallas, TX (PRWEB) March 06, 2012
With foundation repairs costs in the thousands of dollars, most homeowners have to find ways to finance the project.
As always, before plunging a large amount of money into any project with any company, the homeowner needs to be comfortable with the work ahead and have a clear picture of what the scope of the repair will be. The homeowners need to make sure they understand the warranty coverage offered by the company bidding for the repairs, including all the fine print. Always check references and previous jobs the bidding company may have performed. Foundation repairs are sometimes complicated and experience in the field is of great importance. The lowest bid is not always the best option and, with enough self education, homeowners can also make sure that they are not overpaying for the job
While selecting the company, homeowners should keep in mind that some of the more established foundation repairs companies will offer financing and allow the homeowner to spread the burden of what sometimes can be a very costly project. Home equity loans are sometimes a good option due to the low interest on the borrowed money.
Homeowners insurance policies most of the time do not cover foundations issues and foundation repairs unless those issue are caused by a sudden release of water due to a malfunctioning appliance, improperly installed or defective plumbing. Of course the homeowner should consult with their insurance company and the policy documents to see if the repairs are covered.
In some cases the project gets put off to a later date which will in most cases increase the cost of repairs and reduce the property value. Therefore, the homeowners needs to consider the implications of short term cost, versus long term cost keeping in mind that unfortunately, foundation problems will not go away or improve over time, if left unaddressed.
If the homeowner needs more clarifications, the can consult with Premier Foundation Repair Inc in 3767 Forest Ln, Dallas, TX 75244 or visit http://www.premierfoundationrepair.com/