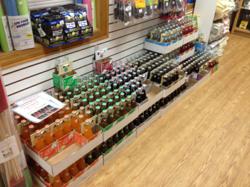 Elma, New York (PRWEB) March 06, 2012
The Made In America Store offers products that are 100% American made, from the stitching in the clothing to the plastic packaging for the utensils. One of the hottest items at the store is the 100% pure cane sugar soda from Johnnie Ryan.
Johnnie Ryan Soda originated in Niagara Falls, New York, where it is still manufactured today. The soda is a family favorite because of its sweet natural taste and vintage persona. With Johnnie Ryan's commitment to manufacturing it's products with American made components, the company was a perfect candidate for the Made In America Store.
The Made In America Store currently offers cola, root beer, cheery, ginger ale and cream soda Johnnie Ryan flavors. Now the store offers three new flavors from birch beer, diet cola and black cherry. Customers can either purchase individual bottles or mix and match four packs. The Made In America Store even offers a special deal if customers buy six 4 packs.
Consumers can shop for more beverages and other American made products at the Made In America Store e-commerce site.
The Made In America Store is located at 900 Maple Road in Elma, New York and offers 100% American made products. Consumers can visit http://www.SaveOurCountryFirst.com for more information and a digital catalog.