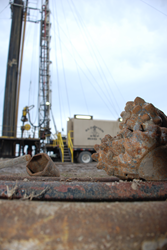 We are able to maximize profits and pass them along to our partners and investors
San Antonio, Texas (PRWEB) March 07, 2012
Millennium Exploration Company, LLC, serving as its own prospect generator, financing and operating entity, successfully drilled and tested the Normanna West Donahue #1 Well in Bee County, Texas, west of Normanna. Today it announced the discovery of potentially significant oil and gas reserves. The company partnered with two industry partners and several nationwide private investors to drill in the historically lucrative area of the Texas Gulf Coast region. The well was drilled to an estimated 5,000 feet in total vertical depth to encounter a series of the Yegua Sand Stone sands, which are predominate in the area and known for relatively high daily production rates.
Millennium Exploration Company was recently bonded, licensed and insured as am operating and general contracting firm. President and CEO Richard Monroy assembled a team of experts including geologists, geophysicists, land negotiators and financial experts to establish a solid foundation for its first drill. "My experience in the oil and gas industry guided the process of assembling the experts needed in multiple areas to ensure a streamlined operation. We are able to maximize profits and pass them along to our partners and investors. Our success and experience in the challenging area of the Normanna West Donahue #1 Well helps make us one of the most competitive companies in the region. I am extremely proud and looking forward to the future we will have in the industry as a full fledged and fully integrated oil and gas company."
The company's finding of Yegua formations is significant because they have historically been known to produce in excess of 150 barrels of oil per day as long as 12 to 15 months. The average production for these sands in the area average at about 50 barrels of oil per day.
Additionally,wells in this area have been known to flow for 12 to 15 years. With oil prices at nearly $110 per barrel, Millennium Exploration, LLC is diligently working on completions and placing the well into production as soon as possible.
ABOUT MILLENNIUM EXPLORATION COMPANY, LLC
Millennium Exploration Co. is an oil and gas exploration and development company formed to acquire, develop and reestablish oil and gas properties with proven reserves. The company's strategy is to target domestic areas of production where major oil companies have scaled back efforts in order to pursue larger reserves offshore. The large amount of undeveloped reserves left in place due to this shift in priorities for major oil companies has created a great window of opportunity for well managed and strongly positioned independent oil companies. With our strong network and knowledge of our target areas we can consistently and effectively extract considerable reserves with much lower risk and lower cost.
For more information, visit http://www.millenniumexpco.com or call 210.579.0734.