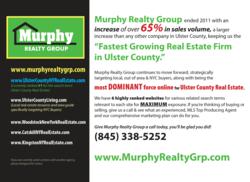 We see your signs everywhere!!
Ulster County, NY (PRWEB) March 05, 2012
With all the negative national housing reports, it is surprising to many that Murphy Realty Group continues to make advances in the Ulster County Real Estate market. John Murphy, owner and Principal Broker of Murphy Realty Group, said that despite these national reports, the Ulster County Real Estate market has remained stable. Of course, the market is not what it was 6-7 years ago, but then again, that was not a stable market. The real estate market then, resembled the stock market, the bubble expanded and finally got to the point of bursting. Even in these conditions, the Ulster County Real Estate market has seemed to level off, and return to a more stable and normal market.
The amount of foreclosures are drastically down, and going over the year end stats for 2011, compared to 2010, things are looking up. The entire Ulster County Real Estate market is seeing much improvement, and if these stats continue, should gradually get better. Here are a few stats pulled from the Ulster County MLS data base, for the Woodstock Real Estate market:
Year To Year Market Report:
Area: Woodstock NY Property Class: Residential Homes
In 2011 93 Woodstock NY Homes sold with an average sale price of $419,906
In 2010 86 Woodstock NY Homes sold with an average sale price of $344,837
That's an 8% increase in the amount of homes sold, and an increase of 22% for the average sale price.
Some areas within Ulster County saw little to no change, and others saw a great increase. Although there are reports stating that pending homes sales have increased in the first 2 months of 2012. Overall, it's an exccellent sign for the real estate market.
From the day Murphy Realty Group opened their doors for business, the company has had a strong local presence. From their unique an distinctive colors and signs, to strong print advertising, TV sponsorships, radio ads, and an impressive company website, Murphy Realty Group is a strongly recognized company.
With stats improving, Owner and Principal Broker of Murphy Realty Group, John Murphy is ecstatic with the success his company has had, and states that he is proud that his company is still "The Fastest Growing Real Estate Firm In Ulster County". The firm is not growing in size however, but growing in success. There are many companies with multiple offices and upwards of 50, 60, and 70 agents. Yet, Murphy Realty Group year after year, shows a larger sales increase than any other company, while composed of one office location, and 10 hardworking, full time, Ulster County Real Estate MLS Top Producers. John has said "you never have to wonder who is answering the phones here, each one of us is a full time Top Producer, we know the inventory, and can easily answer any and all questions".
Along with his team of MLS Top Producers, John has a unique, and aggressive marketing strategy, targeting the entire Ulster County Real Estate market, as well as more localized areas, such as Woodstock NY Real Estate.
The company has launched various real estate websites, targeting local areas throughout the county, with each one optimized and specializing in that specific area. Each of these sites are highly ranked in the search engines for relevant content to each site. An example of these websites would be http://www.UlsterCountyNYRealEstate.com which is currently ranked #1 for the search term Ulster County Real Estate, and http://www.WoodstockNewYorkRealEstate.com, which offers a complete website dedicated to the Woodstock NY Real Estate market. The website offers a great deal of information, a local blog which is full of helpful knowledge about the area, and advanced MLS search options for anyone to browse Woodstock Homes For Sale.
With Murphy Realty Group's dominant online presence, they reach home buyers and sellers, not just locally, but from all over. Specifically, WoodstockNewYorkRealEstate.com, helps give buyers from out of the area, such as NYC, an insight into the Woodstock Real Estate market, gives local market stats, information on upcoming events, and more.
Moving forward, Murphy Realty Group plans to expand even more. For more information on the Ulster County Real Estate market and Murphy Realty Group, visit:http://www.murphyrealtygrp.com