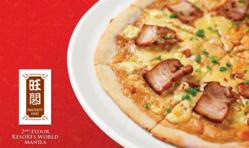 Pasay City, Philippines (PRWEB) March 06, 2012
Resorts World Manila's (RWM) signature dish, Chicken Pork Adobo Laguna Cheese Pizza or "CPA," is fast becoming a favorite among foreigners and locals alike for its unique taste.
A hand-tossed pizza crust is topped with strips of chicken and pork adobo that rest on a creamy layer of melted mozzarella and Laguna cheese, the latter named after the Philippine province where it originates, known for its carabao-milk soft cheese called "kesong puti" (white cheese). The pizza, a popular dish around the world, serves as a platform to introduce Filipino adobo to the world.
The iconic Filipino comfort food —chicken or pork meat marinated and simmered in soy sauce, vinegar and spices—is known to take on many forms in different households, and is usually served with steaming white rice. But at RWM's Pizzasta and Bar 360, it takes on a new and delicious twist as the CPA Laguna Cheese Pizza.
Pizzasta and Bar 360 are two of the many dining outlets one can find at RWM.
The CPA Laguna Cheese Pizza is available in 12" and 16". For more information call the RWM Tourist Hotline at (632)836-6333 or visit http://www.rwmanila.com.
Resorts World Manila (RWM) is the first integrated tourism destination in the Philippines. Conveniently located across Ninoy Aquino International Airport 3, RWM is an instant gateway to Philippine hospitality. This lifestyle hub is home to three international lodging brands: Maxims Hotel, the first all-luxury suite hotel in the country; Marriott Hotel Manila, a five-star brand known all over the world; and Remington Hotel, for the budget-savvy traveler.
RWM's Newport Mall features luxury retail brands from all over the world. It offers a unique viewing experience at The Newport Cinemas with its stadium seating and state-of-the-art cinema technology, and plays and performances at The Newport Performing Arts Theater, the metro's newest venue for the hottest concerts and events.
RWM is also home to the biggest gaming facility in the Philippines. RWM offers free membership that gives guests access to rewards, discounts, freebies, and exclusive invites to RWM events.
CONTACT:
ARCHIE NICASIO
Public Relations Manager
Mobile (63) 917.8728737
Telephone (632) 836.6000 loc. 7839
Email archie(dot)nicasio(at)rwmanila(dot)com
10F NECC Building
Newport Boulevard, Newport City
Pasay 1309, Metro Manila
Philippines
http://www.rwmanila.com
###