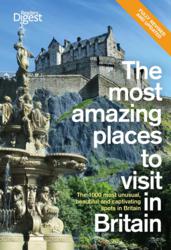 1000 of the most stunning, remarkable and curious places England, Scotland, Wales and Northern Ireland have to offer
(PRWEB UK) 6 March 2012
From Glen Coe to the Goonhilly Downs, Seven Sisters to Snowdonia, Britain's best is laid before you in Reader's Digest's latest edition of their best selling Most Amazing Places to Visit in Britain (RRP £14.99; ISBN 9781780200668).
Leaving no stone unturned, this is a discerning tour of the British Isles, exploring the 1,000 most unusual, beautiful and captivating spots in England, Wales Scotland and Northern Ireland. From castles, cathedrals and natural wonders to bell foundries, coal mines and even an umbrella shop, this book reflects the rich diversity of fascinating places ancient and modern, traditional and quirky, that Britain has to offer.
Now this unique reference volume has been fully updated for 2012 and comes complete with entries on Britain's latest sites and most compelling attractions. Heritage destinations like the Astor family's London mansion Two Temple Place or Virginia Woolf's own rooms at Monk's House, join recent attractions like Glasgow's stunning and futuristic Riverside Transport Museum and the Turner Contemporary on the Margate sea front in the new listings.
This lavish three-in-one guide, gazetteer and armchair reference, is a thoroughly practical touring guide full of useful information, directions and everything you'll need to plan your next day out or regional excursion. Additional features on national treasures like the Yorkshire Dales, the whisky distilleries on the River Spey, Derbyshire's Limestone caves and more, make this essential reading for savvy UK travelers and provide inspiration for the independent wanderer.
Most Amazing Places to Visit in Britain: The 1000 most unusual, beautiful and captivating spots in Britain (RRP £14.99; ISBN 978 1 78020 066 8) is available in April 2012
Notes to the editor

For further information including extracts, or review copies please contact Crystal Carter, F&W Media International Publicity, on 01626 323214 or email crystal(dot)carter(at)fwmedia(dot)com.
Reader's Digest best selling Most Amazing Places to Visit in Britain was originally published in 2006 and has since sold over 100,000 copies. Part of the best selling Most Amazing travel series of 10 books celebrating the best of Britain. Recent titles include Most Amazing Places to Visit in London, Most Amazing Places of Folklore & Legend in Britain, and Most Amazing Places to Walk in Britain.
F&W Media International is an award-winning publisher and distributor of illustrated nonfiction books on a wide range of topics including history, hobby, craft and photography. The company publishes and distributes more than 100 titles a year for David & Charles, Dover, White Star, Reader's Digest, and other imprints.