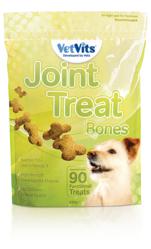 Joint Treat Bones are not only nutritious but delicious too!
(PRWEB UK) 7 March 2012
An estimated one in five adult dogs suffer from canine arthritis which is the most common source of pain treatment by veterinarians. All 320 of a dog's joints are in constant use working to cushion their bones and allow movement. As a dog ages and due to the rapid growth phase from puppy to adult, a dog will inevitably experience wear and tear on their joints with studies now showing that one third of all dogs over the age of five show signs of reduced mobility.
NEW Joint Treat Bones are unique treats to help everyday mobility packed full of high strength green-lipped mussel, salmon oil rich in omega 3, calcium for strong bones and an antioxidant herb mix including rosehip. This delicious recipe makes this treat a tasty way to administer these valuable ingredients to dogs and ensure they have the nutrients required to support their joints. Joint Treat Bones are not only nutritious but delicious too!
John Foster, veterinarian and consultant says:
"In my experience most dogs will suffer some form of joint discomfort at some time. The best approach to growing and maintaining strong flexible joints is prevention. With the physical changes incurred during a dog's ageing process the need for tailored nutrition and support from an early age can pay dividends later in a dog's life. Standard pet foods often provide a range of vitamins and minerals but cannot offer the fresh premium nutrients in optimum concentrations found within Joint Treat Bones."
Formulated by our veterinary experts Joint Treat Bones contain four key ingredients:
Green-lipped mussel: the powerful New Zealand green-lipped mussel has been claimed to have many benefits providing a rich source of glycoproteins, chondroitin, amino acids, vitamins and minerals.
Salmon Oil: the all important omega 3 fatty acids found within salmon oil contain DHA and EPA traditionally used to help maintain healthy joints and a healthy heart.
Calcium: to help maintain healthy bones and teeth.
Antioxidant rich herb mix including rose hip: antioxidants are substances that reduce, neutralize, and help prevent the damage done to the body by free radicals.
Joining an expanding range of products for dogs, VetVits Joint Treat Bones is available direct via the website http://www.vetvits.co.uk or Freephone 0800 100 40 80, priced at £11.95 delivered, for approximately 90 treats. 100% satisfaction guaranteed or the customer receives their money back.
ENDS
Notes to Editors:
VetVits was established in 2001 and continue to provide an expanding range of pet wellbeing products all developed by veterinary experts using only pure concentrated, pharmaceutical grade ingredients at great value across dog, cat and equine categories.
How to feed Joint Treat Bones:
Introduce gradually over a period of 5-7 days spread throughout the day or as a training reward. The treats can be fed from any age.
Typical allowance to deliver the equivalent of 1,000mg GLM to a 30kg dog (for only 13p a treat):
Small dog 2-9kg: 1-2 treats daily
Medium dog 10-24kg: 2-4 treats daily
Large 25-45kg: 4-6 treats daily
Giant 45kg+: 6+ treats daily
For further information, exclusive expert quotes, product samples or photography please contact Jo McMinn 01481 711321 or email jo(at)healthspan(dot)co(dot)uk