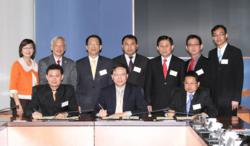 (PRWEB) March 05, 2012
The signing of a tripartite Memorandum of Understanding (MoU) has paved the way for The Hong Kong Polytechnic University (PolyU) to work together with the King Mongkut's Institute of Technology Ladkrabang (KMITL) and the Expressway Authority of Thailand (EXAT) on the establishment of a Research Center on Transportation Technology and Railway Engineering.
Witnessed by Dr Sakda Panwai from the Director's Office of Expressway System Engineering Research and Development and Professor Philip Chan, PolyU Deputy President and Provost, the MoU was signed today (5 March) by Professor Suchatvee Suwansawat, Dean of KMITL's Faculty of Construction; Mr Aiyanat Tinapai, Governor, Expressway Authority of Thailand; and Professor Teng Jin-Guang, Dean of PolyU's Faculty of Construction and Environment on the university campus.
According to the MoU, the joint research center will be located at KMITL campus in Bangkok, Thailand. KMITL will provide adequate spaces free of charge for research offices and laboratories as agreed by all three parties. Each party will also assign one staff member to serve as co-director of the joint research center.
On PolyU side, transportation researchers from its Department of Civil and Structural Engineering (CSE) will provide the main thrust for this project led by Dr Agachai Sumalee (CSE) who has been instrumental in setting up this MOU. The three parties will also explore collaboration on the Intelligent Transport Systems, Bridge and Road Structure and Maintenance, Engineering, and Environment; and their potential application.
In addition, EXAT and KMITL will send staff members to enroll in PolyU's postgraduate programs in transportation and engineering-related areas. The Thai authorities will sponsor tuition fees for Master's degree students, provide studentship for PhD candidates, and cover necessary research expenses.
The delegation from Thailand also took this opportunity to tour around the advanced facilities and laboratories of PolyU during their stay in Hong Kong.
Press contact: Dr Agachai Sumalee
Department of Civil and Structural Engineering
Tel: (852) 3400 3963
Email: ceasumal(at)polyu(dot)edu(dot)hk