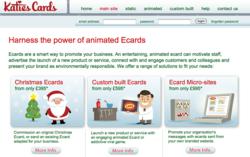 Katie's Cards technical support team answered all our questions promptly, and the service we received maked the whole process very easy and stress free' Paul Brewster - Carrington House.
Teddington, Middlesex. UK (PRWEB) March 06, 2012
Katie's Cards, the animated ecard company have been creating consumer ecards for all occasions for over 5 years, as well as offer business ecards, ecard microsites and viral games. They have launched a new web page that showcases the range of corporate services available, which will enhance the marketing strategy of any business. The new page sits along side the existing 'DIY' corporate e card range, which enables companies to send high quality, low cost Christmas ecards themselves.
Offering users detailed information and examples of the corporate services that Katie's Cards provides, the page displays the following options:

Bespoke Company Christmas E cards: businesses can commission an original Christmas e card to send to their customers and staff or adapt one from the Katie's Cards extensive library of existing seasonal cards. There are four examples of recent ecards created for: Auto Glym, Triniti Marketing, Barrocas and BPS.
Custom Built E cards: animated e cards or viral games can be created for a number of uses, for example: to advertise a new product or service, enhance brand awareness or alert customers and staff to events and occasions throughout the year. There are four E card examples to view that were commissioned by Scottish Enterprise to illustrate their core values and principles.
Custom Made E card Websites: ecard microsites can be created and branded for business and organizations to host both commissioned and existing E cards. There are two examples recent project, the Scottish Enterprise microsite which can be accessed only by staff internally and a site for the north American courier company Purolator can which was designed for their customers to send free Christmas ecards and is a good example of how ecards can boost sales through viral marketing.
Katie's Cards work with many large and small companies throughout the year creating custom made Christmas e cards, corporate e cards for all occasions and events and addictive viral games. With something to suit all budgets; choose from static, animated or bespoke designs, all of which will incorporate a company logo, personal or marketing message and a web link.
Paul Brewster from Carrington House was enthusiastic about the service they received from Katies Cards;
'This will be our second Christmas using Katies Card, we are delighted with the selection and feel their Christmas ecards are really engaging and entertaining for our customers. Their technical support team answered all our questions promptly, and the service we received maked the whole process very easy and stress free'.
Katie's Cards create smart, high quality e cards and offer a range of solutions to fit all budgets. The cards deliver low-cost, quick and environmentally friendly solutions for businesses of all sizes and are an original and entertaining way to communicate with customers. More information about the service can be found at katiescards.com/company/
For more information:
Telephone: +44 208 274 2069
Facebook: facebook.com/Katies.ecards
Google+: plus.google.com/b/112154337266137625724/
Twitter: twitter.com/#!/KatiesCorpEcard
Copyright information: This article is free for reproduction but must be reproduced in its entirety, including live links & this copyright statement must be included. Visit katiescards.com for more services!