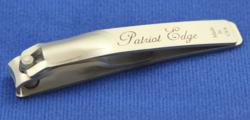 I have had a set of your Patriot Edge clippers for about four weeks and they are the very
best that I have ever used. I will getting some for Christmas gifts. It will be nice to give
something MADE IN AMERICA!
Fred S. Oceanside CA
Huntsville, AL (PRWEB) March 07, 2012
The Comfort Cut clippers are ideal for people who cannot cut their nails with traditional nail clippers for a variety of reasons ranging from thick nails caused by fungal infections, severe arthritis that limits the ability to squeeze traditional clippers or for those with diabetes who worry about cutting their nails to close.
Like most entrepreneurs, Mr. Maddox developed the Comfort Cut clippers based on need and observation. In February 2010, Maddox said, "I was trying to clip my toenails and, as usual, struggled to get the nail between the jaws. So I thought, "Why don't they make clippers that curve like my nails?" Based on that question, Mr. Maddox put his 30 years of engineering experience and M.I.T. education to work. Maddox founded his company Patriot Edge with the express purpose of solving nail care problems with a 100 percent "Made in the USA" product.
Maddox experimented with various materials and designs before settling on a final prototype in December 2010.
"The need for an advanced clipper that can handle thick nails is real," said Maddox. According to a 2006 article in Clinical Diabetes, The American Diabetes Association estimates that approximately 7 million people suffer from Onychomycosis, a fungal nail infection that causes the abnormal thickening of nails.
However, traditional clippers are also hard for those suffering from arthritis to manipulate. The Centers for Disease Control and Prevention (CDC) reported in December 2011 that "Arthritis is the most common cause of disability in the United States, limiting the activities of nearly 21 million adults."
The advances of Comfort Cut include a larger jaw that is gently recessed and ensures that the clipper cuts nails, not skin. The clipper is contoured to better match the cutting edge to the natural shape of a nail, and the clipper utilizes a longer lever which increases leverage on the nail and provides for greater ease in cutting.
"Losing the ability to trim your own nails, something we all take for granted, can be very unsettling," said Maddox. "The Comfort Cut Technology clipper helps people maintain control of their nails, promotes better hygiene, health, and self esteem. Put simply, it improves the quality of life."
The Comfort Cut Technology clipper is available through the Patriot Edge web site. For more details and testimonials, visit patriotedge.com.
About Willie Maddox and Patriot Edge
A Vietnam Veteran who graduated from the Massachusetts Institute of Technology in 1981 with a B.S. in Electrical Engineering, Willie Maddox has solved engineering problems for the Department of Defense, NASA and other government agencies for over 30 years.
Patriot Edge is an entrepreneurial startup that is committed to solving nail care problems with a product made 100% in the U.S.A.
# # #