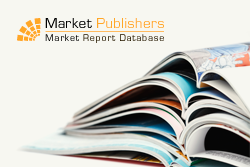 London, UK (PRWEB) March 05, 2012
The global manufacturing execution systems (MES) market is expected to grow from last year's USD 4.7 billion to reach USD 8.9 billion by the end of 2016, maintaining a CAGR of 13.6% from 2011 to 2016.
To get the benefit of lower labor wages, manufacturing units have shifted to China and India. Though, with labor cost increasing day by day, there is a huge need for a system to tackle this problem, which in turn leads to the growth in demand for the MES system in the region. Another reason for the expansion of the MES market in these nations is the increased number of manufacturing plants of various industries like automotive, textiles, power, pharmaceuticals where the MES solutions are highly in use. In APAC, besides being considered as the growth engines for the MES market, China and India are also carving a niche for themselves across the globe.
New research report "Manufacturing Execution Systems (MES) Market (2011-2016) by Applications - Global Forecast & Analysis (2011-2016)" worked out by MarketsandMarkets has been recently published by Market Publishers Ltd.
Report Details:
Title: Manufacturing Execution Systems (MES) Market (2011-2016) by Applications - Global Forecast & Analysis (2011-2016)
Published: March, 2012
Pages: 203
Price: US$ 4,650
http://marketpublishers.com/report/technologies_electronics/semiconductors/manufacturing_execution_systems_mes_market_2011_2016_by_applications_process_industries_chemicals_fb_oil_gas_power_water_management_paper_pulp.html
The report delves into extensive research and in-depth analysis of the world MES market, categorizing it on the basis of types, applications, and geography. It forecasts revenues and analyzes trends in each of these submarkets. To contribute to a better understanding of the sector, the study gives detailed insights into key market drivers, trends and opportunities, major players, and competitive outlook. Market tables for covering the sub-segments and micro-markets are also provided. Moreover, 20 company profiles covering all the sub-segments are featured as well.
Report Contents:
1 Introduction
1.1 Key Take-Aways
1.2 Report Description
1.3 Markets Covered
1.4 Stakeholders
1.5 Research Methodology
1.5.1 Market Size
1.5.2 Key Data Points from Secondary Sources
1.5.3 Key Data Points from Primary Sources
1.6 Assumptions Made
1.7 List of Companies Covered During the Report
2 Executive Summary
3 Market Overview
3.1 Introduction
3.2 Market Definition
3.3 Market Segmentation
3.4 Market Evolution (Technology Roadmap)
3.5 Industry Lifecycle
3.6 Value Chain of MES
3.6.1 MES Software Developers
3.6.2 ERP Developers
3.6.3 System Integrators
3.6.4 End-User (Manufacturing Unit)
3.7 Benefits of MES
3.8 Revenue Model of MES
3.9 Porter's Five Forces Model for the MES Market
3.9.1 Entry Barriers
3.9.2 Substitutes
3.9.3 Supplier's Power
3.9.4 Buyer's Power
3.9.5 Rivals
3.10 Burning Issues
3.10.1 Calculation of ROI of MES
3.11 Winning Imperatives
3.11.1 Multi Plant MES/Integrations of Multiple Plants
3.12 Challenges
3.12.1 High Initial Cost
3.13 Market Dynamics
3.13.1 Drivers
3.13.1.1 Improve the process by reducing the cost and increase in productivity
3.13.1.2 Growth in industrial automation
3.13.1.3 Regulations
3.13.1.3.1 The 21 CFR part 11 regulations
3.13.1.3.2 Food bio-terrorism act enhances manufacturing system execution acceptance
3.13.2 Restraints
...
More new research reports by the publisher can be found at MarketsandMarkets page.