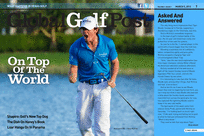 Winter Park, FL (PRWEB) March 05, 2012
Global Golf Post, the first digital weekly golf news publication, announced today a strategic partnership with Chicago District Golfer.
Under this partnership, weekly issues delivered to CDGA members will include unique content about golf in Chicago, and will highlight the game that CDGA members play. Members will now get weekly coverage of the global game, as well as the game of golf taking place locally.
"We are honored to be able to serve the Chicago golf community," says James Nugent, President and CEO of The Post . "We look forward to keeping CDGA members well informed by delivering golf news from around the world as well as their own back yard."
"We are excited to partner with Global Golf Post as they launch their Chicago edition," adds Robert Markionni, Executive Director of the Chicago District Golf Association. "Our membership will have the opportunity to receive the digital publication on a weekly basis, which will allow them to stay current on what is happening in the world of golf on a national and international basis."
About Global Golf Post
Global Golf Post is the first digital weekly golf news publication in the world that offers the passionate golf enthusiast an extraordinary online experience that can be accessed across all major devices. Founded in 2010 and headquartered in Winter Park, Fla., The Post is delivered overnight on Sunday to a global and passionate golf audience.
For more information please contact – Heather Osborne (heather(at)globalgolfpost (dot)com) or click here to subscribe to Global Golf Post.