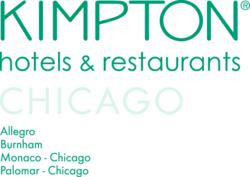 Chicago, IL (PRWEB) March 05, 2012
On March 4, the city of Chicago celebrated its 175th birthday, and Kimpton's Chicago hotels want to wish a big "HAPPY BIRTHDAY!" to the Second City that is first in our hearts. Since 175 is a pretty big year, we wanted to do something special to keep the celebration going. For 175 days, Kimpton's four Chicago hotels are offering a "Toast to Chicago" package for $175 per night, including a welcome birthday gift of our favorite locally-made goodies.
Known for distinct design, genuine service and playful amenities, Kimpton hotels of Chicago are a home-away-from-home for travelers of all types. The hotels are located in ideal neighborhoods, from the Loop District on up to River North, and offer a launching pad for Chi-town adventures 175 years in the making. Whether taking on museum hopping with family, girlfriends' shopping escapades or boardroom marathons for business travelers, Chicago's Kimpton hotels will make guests feel welcome in the Windy City.
Participating hotels include:

Kimpton's "Toast to Chicago" package will run through August 26, 2012. Rates are $175 and blackout dates apply. To book, visit the individual hotel's website (links included above) and enter rate code PCHIC or call 1-800-KIMPTON and mention rate code PCHIC.
Want more reasons to love Chicago? Visit http://www.ExploreChicago.org/175Days to find a cultural calendar with exciting opportunities to explore Chicago everyday in honor of the city's incorporation 175 years ago.
Follow Kimpton Hotels & Restaurants in Chicago on Twitter at @KimptonCHI and find us on Facebook: Hotel Allegro, Hotel Burnham, Hotel Monaco Chicago, Hotel Palomar Chicago.
ABOUT KIMPTON HOTELS & RESTAURANTS
San Francisco-based Kimpton Hotels & Restaurants, a collection of boutique hotels and chef-driven restaurants in the US, is an acknowledged industry pioneer and was the first to bring the boutique hotel concept to America. In 1981 Bill Kimpton founded the company that today is well-known for making travelers feel welcomed and comfortable while away from home through authentic and unscripted customer care, stylish ambience and embodying a certain playfulness in its approach to programs and amenities. Adjacent to the hotels are locally-loved, top-rated, Kimpton restaurants. Kimpton leads the hospitality industry in ecological practices through its innovative EarthCare program that spans all hotels and restaurants. Market Metrix, a recognized authority and leader in feedback solutions, consistently ranks Kimpton above other hotel companies in luxury and upper upscale segments for customer satisfaction. Privately held Kimpton was recognized by Fortune Magazine as a Best Company to Work for in 2012. The company operates more than 50 hotels and more than 50 restaurants in 23 cities. For more information visit http://www.KimptonHotels.com or call 1-800-KIMPTON.