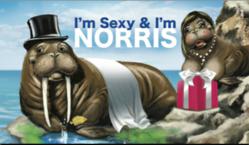 Come to your "Sensis" and get your condom on!
(PRWEB) March 07, 2012
Best Condom Brand? Difficult question. Everyone has a "one of a kind", so how can one brand serve the needs of all and be considered the best? The short answer is, no one can. However, users discovered a condom brand that is surely trying to do so, and we would like to reward them with our "Users' Choice" best condom brand designation. Congratulations to "Sensis Condoms", well done.
Best Condom Brand Attributes - "Sensis Condoms":
Technological Advancement

Humans have been "doing it" for thousands of years and have lots of experience trying different things to enhance pleasure. The folks at Sensis have continued that pioneering spirit and created the Condom "Strip". Other than Pronto Condoms (South Africa only), their users did not find any other Brand that had a more technologically advanced application process.
Unique Product Features

Two disposable polyethylene QuikStrips™ (Not to be confused with Quick Strips or QuickStrips) rolled into the sides of all their condoms for easy application purposes.
Choice of either thin lubricated or micro-dot ribbed contoured condoms.
Positive User Experience

Users declared this as the best condom brand because they never had more fun putting on and using a condom. Enough said.
Health Safety Features

Appropriate spacing at the reservoir tip reduces chance of breakage
No touching of the condom as it's applied; less chance of a tear or fingernail nick
Less chance of accidental inside-out-then-flip contamination; raised-texture ridges on the strips assure right-side-out application even in the dark or when inebriated.
Easy to Acquire

Internet distribution system. Products will be delivered in a discrete, private and secure manner from AskNorris.com distributors.
AskNorris.com is an internet based business that focuses on the "Intimate Human" demographic. The Company is part of the PuZLink stable of businesses built based on human behavioral traits (i.e. communication, consumption, philanthropy, innovation, procreation).
"Procreation" is the trait that AskNorris.com has focused on. It is logical to assume that if humans have been "intimate" for thousands of years, they will continue being so in the future. As a result, AskNorris.com was built to provide a foundation of options, of which, the future can best be served in a secure, pleasant and resource filled environment."
In addition to the best condom brand, AskNorris.com will be announcing additional "Users' Choice" designations for other products and services in the very near future. Stay tuned.
Norris
"The Condom Walrus"
Media Relations
New York - London