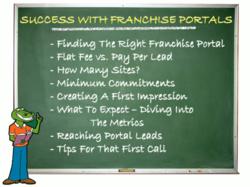 Roswell, GA (PRWEB) March 07, 2012
Franchise Gator is excited to invite interested parties to review a recent web presentation originally held on February 1st titled "Success with Franchise Portals." Topics ranged from finding the right franchise portal to tips on what to expect once the campaign is live.
"Hundreds of companies are having success with the franchise portals, and there are some commonalities in their approach," said Eric Bell, the Director of Sales and Service at Franchise Gator. "Conversely, I see too many companies fall short of their goals due to a poorly executed game plan as well as unreasonable expectations. I wanted to demonstrate what a successful campaign looked like, and supply that blueprint for all who are considering franchise portals as part of their marketing efforts."
Bell created the content and led the presentation. An encore session was held on February 22nd, shortly after the International Franchise Association show in Orlando where feedback was very positive regarding the session.
Feedback from the sessions are encouraging Franchise Gator to plan future web conferences. "Great information shared and some awesome coaching/training on how to work portal leads," said Lori Kiser-Block, Vice President of Rapid Refill. "Honestly, some of the best I've seen or heard in a long time, good job."
A full list of topics include:

Finding The Right Franchise Portal
Flat Fee vs. Pay Per Lead
How Many Sites?
Minimum Commitments
What To Expect – Diving Into The Metrics
Creating A First Impression
Reaching Portal Leads
Tips For That First Call
For more information on how to obtain a link to the webinar recording, contact Franchise Gator at eric.bell@franchisegator.com
About Franchise Gator
Franchise Gator, (http://www.franchisegator.com), a unit of Landmark Interactive, a division of Dominion Enterprises, is widely known as the leading destination for those seeking to invest in a franchise opportunity. Now in its tenth year of operation, Franchise Gator and its network of sites offer information on hundreds of business and franchise opportunities available in 100+ industries in one convenient location on the web. In turn, Franchise Gator provides franchisors with a quality, yet cost-effective, mode of franchise marketing.