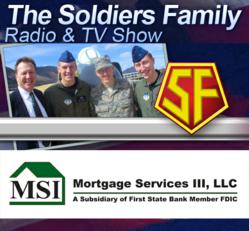 I have known Steve Tomaszewski for many years, and over coffee while discussing the powerful benefits of a Reverse Mortgage, he asked me to speak. I felt honored to speak about MSI and our programs to the men, women and families of our armed forces.
Schaumburg, IL (PRWEB) March 07, 2012
Stephen H. Gorman the Vice President of the Reverse Mortgage Division of MSI recently was invited as a guest speaker on the Soldiers Family TV & Radio show http://www.sftvr.com by Steve Tomaszewski. Mr. Gorman talked about the powerful benefits of a reverse mortgage for military families wanting to stay in their homes by utilizing a Reverse Mortgage, and is scheduled for additional shows in the future. As a full service reverse mortgage lender, MSI specializes in making the reverse mortgage experience as smooth as possible, while answering any questions that the seniors and their families may have.
What is a reverse mortgage?
Per the HUD.gov website, "A reverse mortgage is a special type of home loan that lets you convert a portion of the equity in your home into cash. The equity that you built up over years of making mortgage payments can be paid to you. However, unlike a traditional home equity loan or second mortgage, HECM borrowers do not have to repay the HECM loan until the borrowers no longer use the home as their principal residence or fail to meet the obligations of the mortgage. "
About Soldiers Family TV & Radio
The show called Talk To The Troops is the 1st true online TV & Radio Internet show that has grown to over 50,000 listeners and viewers around the world on the net. The show also goes to events and corporations and allows companies who support our troops to talk about how their organization today helps our soldiers and families with corporate discounts.
About Mortgage Services III, LLC
Mortgage Services III, LLC, a wholly owned subsidiary of First State Bank, is committed to providing the highest service and personal care to all of its clients. MSI is a fresh face in the Reverse Mortgage Industry. With the financial security of bank ownership and an experienced and knowledgeable staff, MSI is positioned to provide you with a world class customer experience! Mortgage Services III, LLC is a company with expertise in all facets of the Mortgage Industry.