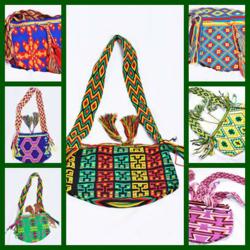 The authentic "Susu Mochila" The art of sewing pass from the spider.
Baltimore, MD (PRWEB) March 12, 2012
Today, Indian treasures announced its unique 2012 spring and Summer Collection of Mochilas Wayuu shoulder bags made by native Colombian women of the Wayuu Tribe. Each bag takes more than twenty days to produce by hand and is a true one of a kind purchase. Imagine being the only person who has that one special bag, showing it to your friends, all while helping the women of the Wayuu tribe support their families and improve their communities.
Unique indigenous Wayuu products are created exclusively for Indian Treasures by native artisans under the company's quality standards. These beautiful products are easy to purchase though the company's website and wholesale retail stores. You can purchase handmade Wayuu mochilas that are brightly colored, have unique patterns and prints that represent tribal histories, are very functional, are fun to wear, and they accentuate each user's sense of style.
According to Sandnes, "Spring is coming and now is the time to take advantage of these unique and stylish hand bags that don't cost a small fortune. Indian-treasures handcrafted Wayuu Mochilas are extremely affordable to add to your wardrobe for as little as $45 dollars (USD). They can be purchased online, over the phone or through a catalog or visit: http://www.indian-treasures.com/. Companies interested in purchasing wholesale should contact us directly.
So, don't wait! Visit Indian Treasures at http://www.indian-treasures.com/ or call us at 443-854-5637. You'll be glad you did.
Myrna Sandnes
President
(T) 443-854-5637
http://www.indian-treasures.com/