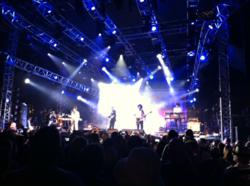 . "This ticket auction will raise much needed funds for musicians fighting cancer, MS, heart disease and other career threatening challenges." Rob Max, Executive Director Sweet Relief
Indio, California (PRWEB) March 06, 2012
The most sought after concert ticket for 2012 must surely be the three-day festival passes to The Coachella Valley Music & Arts Festival taking place on two separate weekends this year in Indio, California. In an effort to raise funds to assist local ill and disabled artists, Sweet Relief Musicians Fund is auctioning off several pairs of VIP tickets to both weekends of the event, many of which include exclusive meet & greet opportunities with artists performing at the festival.
In addition to the auction, music fans have the opportunity to visit sweetrelief.org and enter to win 2 VIP Tickets plus VIP parking. A special $3 donation feature has been created for music fans sympathetic to the cause.
"We are extremely grateful to be able to assist musicians in need who reside and work in The Coachella Valley," said Rob Max, Executive Director of Sweet Relief. "This ticket auction will raise much needed funds for musicians fighting cancer, MS, heart disease and other career threatening challenges."
Aric Steinberg, Director of Development at Sweet Relief added, "This event is an amazing opportunity for us to raise awareness about the challenges musicians face when they fall ill. If someone is able to donate $3 we appreciate it, but all they really have to do is read about the fund and send us their name and email to have a chance to be a Coachella VIP Festival ticket holder."
In addition to the special meet & greets, many of the artists performing at Coachella have contributed signed memorabilia to raise additional funds. Sweet Relief has also set up a special Facebook Tab for additional details.
The auction runs through March 15th and the "Special Sign Up" for a pair of tickets ends March 21st. To access the auction or sign up for the donation give away program visit https://www.sweetrelief.org/coachella-valley-musicians-fund/