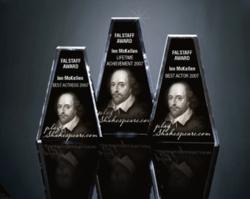 Strong productions from regional theatres and new companies also showed that Shakespeare isn't only for big-named institutions.
San Francisco, CA (PRWEB) March 07, 2012
PlayShakespeare.com is pleased to announce the nominees and winners for the annual Falstaff Awards for 2011. With PlayShakespeare.com's international reach, reviewers worldwide have come together to honor the best in Shakespeare for the year of 2011. The Falstaff Awards recognize extraordinary achievement in the areas of Best Play, Best Director, Best Performance by a Male or Female Actor, among other performance and technical categories.
Sweeping the awards with 8 wins and 1 nomination this year was the highly acclaimed "Sleep No More," a collaboration with Punchdrunk and Emursive. An entire New York City building was transformed into an theatrical experience of Macbeth like no other. With over 100 rooms, sold out audiences donned eerie masks and experienced a highly choreographed performance close up, even interacting with the actors themselves. A Hitchcockian flair to sets, music, and lighting earned Felix Barrett and Maxine Doyle awards for Best Director, Best Set Design and Best Lighting Design. Top honors for Best Principle Performance (Male and Female) went to Nicholas Bruder and Sophie Bortolussi.
This year's winners also include Mariah Gale for her mesmerizing performance of Celia in the Royal Shakespeare Company's "As You Like It" (in which Katy Stephens was nominated for her portrayal of Rosalind). The Public Theater also received nods for it's refreshing staging of "All's Well That Ends Well." Kevin Spacey was nominated for his energetic portrayal of Richard III at the Old Vic Theatre, which garnered four nominations.
The Falstaff Awards honor the release of "Dílo" by Martin Hilský as the Best Book or Publication of 2011. Mr. Martin Hilský is a professor of Charles University in Prague and just published a translation of Shakespeare's complete works in Czech; an almost 20-year journey for the highly respected translator and dramaturge.
Of note is the Lear Award for Lifetime Achievement was awarded to Christopher Plummer in recognition of his lifelong contribution to Shakespeare performance. Plummer, now 81 and having recently won his first Oscar, performed as Prospero in "The Tempest" at the Stratford Shakespeare Festival last year to rave reviews. Currently, he is preparing for his one man show "A Word or Two" in the summer of 2012. Plummer, a native Canadian, got his start at the festival in a production of "Henry V" in 1956.
"Global Shakespeare productions continued to demonstrate the Bard still appeals to us today," said Christopher Adams, Editor-in-Chief of PlayShakespeare.com. "Directors and theatre companies are still finding new, fresh approaches to Shakespeare, whether this means Punchdrunk's radical, site-specific approach in Sleep No More or the National Theatre's classical but well-executed approach in Hamlet. Strong productions from regional theatres and new companies also showed that Shakespeare isn't only for big-named institutions."
The complete list of nominees and winners can be found at:
http://www.playshakespeare.com/falstaff