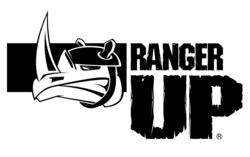 We like to think of ourselves as a movement that happens to make t-shirts and the goal of the movement is to empower and help our troops and veterans.
Durham, NC (PRWEB) March 06, 2012
It isn't easy getting people to spend money on witty t-shirts when gasoline is nearly four dollars a gallon and unemployment nags at millions of American homes. It takes an angle, a message, and in many cases, an unforgettable character. Ranger Up knows these keys to success and while other businesses struggle to stay afloat, this company of military veterans and rugby players is enjoying record growth.
"There are a lot of t-shirt companies out there," says CEO Nick Palmisciano. "We aren't a t-shirt company. We've always had the goal to make a difference and to give back far more to the community that we represent than we take. We like to think of ourselves as a movement that happens to make t-shirts and the goal of the movement is to empower and help our troops and veterans."
Started in 2006 by Palmisciano as a response to liberal and anti-military t-shirts he encountered while attending business school at Duke University, Ranger Up was formed to embody the pro-America, military spirit at a time when the country was weary of five years of war.
It was a risky venture to say the least, but over five years later Ranger Up is a multi-million dollar company experiencing massive growth at a time when many apparel companies aren't. In 2011 Ranger Up grew by 48% in a year where they focused on operational efficiencies and has an overall growth of 829% over the last three years. Given the current economic climate, last year's growth would make most companies happy, but Ranger Up has bigger plans for 2012.
"Last year we had to pump the brakes," says Palmisciano. "We were growing too fast without ensuring our operation was where it should be. We always put our customers first, and I didn't want to be in a position where we weren't serving them well, so we stopped seeking new accounts, invested in infrastructure, remapped all of our processes, and sent our employees to UNC and Duke for classes focused in their work areas. Now we're ready to go and plan to double our business in 2012. We're up 67% in the first two months."
Though operating primarily from an online store, Ranger Up has also established a network of wholesalers and custom jobs that represent a significant portion of its revenue stream. Nevertheless, it is in digital media where they excel, garnering six figures in affiliate marketing and cultivating a rabid social media following of nearly 50,000 followers on Facebook and more than one and a half million views of its witty YouTube campaigns.
"Our numbers would place us in the middle of the INC 500," Palmisciano says. "But we're most proud of growing without any significant debt. We've taken one bank loan in company history in 2009 for additional inventory and that's it. We accomplish our goals through a disciplined system of cash flow planning and budgeting. If we don't have the money for something, we just save until we do."
At a time of ballooning domestic labor and production costs, a sharp rise in cotton prices worldwide, and an overall decline in the retail apparel sector, Ranger Up's continued success is the exception to the rule rather than the norm. Apparel is a notoriously finicky industry that witnesses more good ideas go bad than any other and even a celebrity's endorsement is not a guarantee of success. In 2011 Eddie Bauer, American Apparel, Women's Apparel Group LLC, BP Clothing, and No Fear all filed for bankruptcy.
But no business today is immune to setbacks and Ranger Up ran headlong into one just before Christmas. "We used an unproven printer at a critical time and it ended up being a massive mistake," Palmisciano says. "It was a nightmare, but we did everything within out power to solve the problem. My COO literally rented a van and drove sixteen hours to Ohio to help them run their presses for another twelve hours in the middle of the night, then drove back so we'd meet our deadline."
Despite the superhuman effort, more than half the shirts from the new printer didn't meet the Ranger Up standard. "There were nearly fifty customers whose order we couldn't fill due to a quality issue," adds Ranger Up's COO Tom Amenta. "We gave them the best shirt we could along with a letter of apology and a gift certificate for another two shirts. It was hard to write those letters knowing we had let people down, but we recovered and now know what not to do, which is just as important as knowing what to do in business. If you're not learning from your mistakes, then you're not evolving as a company."
Another way Ranger Up is evolving is by giving back to veterans more and more as the company expands. Ranger Up has a history of supporting service members in various forms from outright cash donations to athletic sponsorships to sitting on the board of military charitable organizations. The company's newest venture is veteran employment consulting. Palmisciano and his team recently produced four short videos that provide veterans much-needed advice on landing a job; valuable advice from someone who started his own business from scratch and is leading it into the upper reaches of the apparel industry.
If this year's numbers are an indicator, the future of Ranger Up is bright. "We're going to expand in a lot of areas," Palmisciano says. "Ranger Up is a lifestyle for a lot of people, so those lifestyle products like hats, jeans, and polo shirts will launch in 2012. We'll also expand our custom services aggressively and foster the growth of our other brands, Unapologetically American and American Sin Bin."
Follow Ranger Up on facebook at http://www.facebook.com/rangerupfanpage
On twitter @Ranger_Up