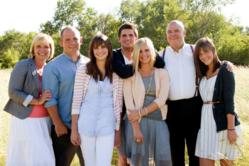 "The time has arrived for consumers who eat healthy to break the high price barrier of enjoying healthful organic and natural foods and now receive them at their doorstep at significantly lower prices," said Rod A. Smith, The Green PolkaDot Box Founder.
Salt Lake City, UT (PRWEB) March 06, 2012
The Green PolkaDot Box™ (GPDB) founder Rod A. Smith is pleased to announce the completion of a merger with Vault America, a company publicly traded on the Bulletin Board exchange under the current symbol VAMA.OB.
"This acquisition positions us to increase shareholder value and make ownership in The Green PolkaDot Box possible for our nearly 13,000 members," said Rod A. Smith, Founder.
The merger was assisted by Andrea Cataneo, Partner at Manhattan-based Sichenzia Ross Friedman Ference LLP. "Andrea played a very significant role, not only in expediting the transaction, but she was the procuring cause of the merger, identifying the best of many alternatives, negotiating favorable terms and conditions in our behalf, so that we retained over 99% ownership interest, post transaction. Her execution of the merger was invaluable," Smith said.
The Company has retained New York based Investment firms Midtown Partners & Co and EKN Financial Services to advise and assist the company in its capital formation strategy now that it has become a public company. Smith is happy with the support Midtown Partners has given in providing bridge financing to facilitate the merger.
"The Green Polka Dot Box mission is to provide healthy food choices to its members at the lowest possible prices. Many people have been limited in their food choices due to the high cost of organic and natural products, until now," said John Clarke, Managing director of Investment banking at Midtown Partners & Co. "In speaking to members we realized there is a huge need and desire for the company's products and FREE to-your-door-delivery service. We look forward to assisting GPDB grow to make healthy food choices at lower prices a reality for it rapidly growing member base."
William Jordan, Investment Banking/Syndication Manager at the Long Island based firm of EKN Financial Services, says he looks forward to working with Smith and his management team in the years to come. "We are proud to be involved in the capital formation process for The Green Polka Dot Box."
The Green PolkaDot Box ships products in an actual green box with polka dots, from their 20,000 square foot warehouse in Spanish Fork, UT. Wade Melton, Vice President of Warehousing and Transportation, anticipates the company can be processing 500 to 1,000 orders in the near future.
"We are prepared and excited to see orders coming in and boxes moving quickly out the door. Speed to market, accuracy, and customer satisfaction are our top priorities." Melton said.
Ryan Ratliff, Director of Legendary Member Services, says the GPDB Legendary Member Services team is also prepared to help answer questions about the growing number of clean food products and brands offered through the Web site.
"The Green PolkaDot Box, along with our nearly 13,000 members, is very excited about the success we have achieved which allows direct-to-door delivery of organic and natural foods," Ratliff said. "We appreciate the support and energetic interest of members who helped make this momentous launch possible."
Rod A. Smith says such strong interest in healthy foods makes sense according to a study by the Organic Trade Association (OTA) which states that 78 percent of U.S. families—more than ever before—are starting to include some organic foods in their diets. The finding is one of many contained in OTA's November 2011 release of the U.S. Families' Organic Attitudes and Beliefs Study.
The GPDB online buying club idea originated with Rod A. Smith and his family as a result of their efforts to eat better after being faced with a diet related health issue. Smith says clean foods, defined as certified organic foods of all varieties that are 3rd party-verified to be free of Genetically Modified Organisms, are now available for fresh purchase online with a membership at their innovative Web site located at http://www.greenpolkadotbox.com.
"The Green PolkaDot Box mission to deliver members with an online access to organic foods is based on an innovative Web site interface that has been created with members in mind," said Pete Anderson, Creative Director. "Without a doubt we have developed the most dynamic, flexible online platform to deliver the GPDB products to Americans who want access to affordable clean foods."
In their quest to educate consumers about clean food and to make organic food affordable, GPDB is cooperating with some of the nation's leading consumer associations and Clean Food advocates, including: The Organic Consumers Association, the Hippocrates Health Institute, the Natural Solutions Foundation, Citizens for Health, the National Health and Wellness Club, Natural News, Mission Possible and others.
To further educate members about the benefits of living a healthy lifestyle, GPDB will soon be launching the Learning Center of their Web site.
Please visit http://www.greenpolkadotbox.com to purchase your membership.
The Green PolkaDot Box™ is an online membership buying club that provides the lowest pricing on organic, natural and other healthy "clean" food products through partnerships that obtain the best pricing from manufacturers and growers and deliver directly to consumers in any Zip Code. A family business, founded by Rod A. Smith, the Green PolkaDot Box does not carry any products that contain harmful ingredients, including foods that are known to be genetically modified. The GPDB annual membership program includes both "club" and "reward" memberships; the later offering a referral rewards program to help consumers earn their healthy food purchases. Both membership types feature a FREE delivery option. Learn how the GPDB referral rewards program helps consumers earn their healthy food purchases. http://www.greenpolkadotbox.com/rod.
Midtown Partners & Co. is a FINRA and SIPC member investment firm specializing in strategic and capital advisory to lower middle market private and public companies. Completing over 100 transactions since 2005 Midtown has ranked as a leading advisor to the companies with less than a $100m valuation. For more information contact John Clarke at (212) 551-7970 or JClarke(at)Midtownpartners(dot)com