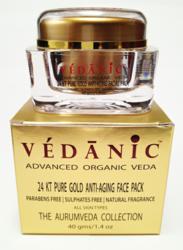 Vedanic Organic Skincare is parabens free, sulphate free, no added colors and no added fragrance
Los Angeles, CA (PRWEB) March 07, 2012
Varun Khanna, a Buckeye and now a soon-to-be graduate from Pepperdine University's Graziadio School of Business & Management, is on a personal mission with his friend, Tarun Arora. They both have something in common.
Khanna's sister died of breast cancer 8 years ago and Arora's sister is bravely battling the disease right now.
While at Pepperdine University, Khanna's research indicated that there was a strong link between parabens, sulphates and almost 100 other chemicals used in cosmetics and breast cancer.
"My research also indicated that a lot of companies selling herbal skincare had parabens, sulphates and other harmful chemicals. Yet, under the guise of herbal were selling toxic skincare products," says Khanna.
"The trend was equally disturbing with some Indian companies selling herbal skincare using the term ayurvedic (the Indian system of herbal medicine)," amplifies Arora.
The two entrepreneurs decided to launch Vedanic. "Veda" – from the term ayurveda and "nic" from organic.
"It was time to launch a responsible parabens free cosmetic line that are also sulphates free and have no artificially-added colors or fragrances. Customers deserve the truth and need to be empowered with complete disclosure so that they can decide for themselves," says the Pepperdine student who is graduating this summer with an MBA.
A recent study by Dr. Philippa Darbre from the University of Reading in the United Kingdom found that almost 99 percent of tissue samples from women in a breast cancer research study contained at least one paraben. 60 percent of the tissue samples contained no less than 5 parabens.
Parabens and sulphates are used as preservatives to increase shelf life.
Vedanic organic, natural and herbal skincare is made in Ecocert approved labs and packaged in FDA approved labs in the USA. There is full and complete disclosure of all the ingredients. 98 percent are organic, herbal and natural. The 2 percent synthetics that are used are not considered harmful to the human skin.
"Shelf life of Vedanic products is only 18 months because we do not use harmful preservatives that extend shelf life," says Arora.
Khanna and Arora strongly believe that a good business must do no evil, can do good and still be profitable by doing the morally right thing.
Vedanic sells gold face scrubs, organic gold face masks, organic moisturizers, gold facial treatment cleansers, skin whitening creams and rose skin tonic that use the East Indian ayurvedic herbal formulations.
Vedanic plans to dedicate a percent of its proceeds by donating to breast cancer research.
Vedanic Organic Skincare pays tribute to the memory of Khanna's sister who died of the disease at the young age of 42 and Arora's sister, who is determined to be victorious in her fight and defeat breast cancer.