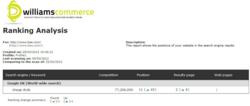 (PRWEB UK) 6 March 2012
Today Williams Commerce Ltd announced dramatic ranking improvements for online retailer Bee.com. A 45 position increase from position 56 (page 6) to position 11 (page 2) in Google.co.uk for the phrase, 'cheap dvds,' was achieved within 12 days.
Williams Commerce Ltd provides ecommerce solutions and SEO services to B2B and B2C markets. With Bee.com Williams Commerce Ltd has been using a range of SEO techniques. The page 2 is a good indication of the success bee.com will achieve in the online marketplace with the help of its SEO services.
At a press conference earlier today Head of the SEO for Williams Commerce Ltd Clare Brace, announced, "We have implemented an aggressive offsite link building campaign for Bee.com, utilising traditional onsite meta data tweaks the combination has shot bee.com almost immediately onto the first page of Google. We're very happy with the progress so far."
Jamie Moorcroft-Sharp, SEO Copywriter for Williams Commerce Ltd added to this, "We have rapidly generated quality inbound anchor text links via perfectly optimised SEO content distributed through a number of onsite content networks."
There is much debate amongst the SEO community with regards to effective SEO techniques. Robert Williams, Managing Director of Williams Commerce Ltd simply stated, "It goes to show content is still king."
Williams Commerce Ltd is a provider of ecommerce solutions to the B2B and B2C markets. The company have worked with many different businesses in the past to build new websites and increase traffic through various mediums. Williams Commerce Ltd also work closely with customers that require digital marketing campaigns or other online services.
Clare Brace is a leading SEO professional with over 7 years' experience promoting B2B and B2C within Google for competitive and lucrative phrases. Working with Jamie Moorcroft-Sharp, Williams Commerce Ltd SEO is proving highly successful in the digital marketing sector.