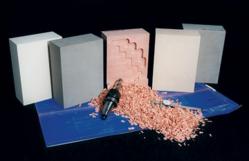 Our distributors are carefully selected based on numerous criteria, but paramount is their ability to meet the needs of our customers."
Tacoma, WA (PRWEB) March 07, 2012
General Plastics Manufacturing Company has named TC Services its distributor of high-density polyurethane foam tooling and modeling boards in the Upper Midwest. Under the agreement, TC Services will supply customers in Minnesota, Wisconsin, North Dakota and South Dakota with General Plastics' LAST-A-FOAM® brand FR-4500, FR-4700 high-temperature and FR 7100 product lines.
"We are very pleased to welcome TC Services to our distributor team," announced President Bruce Lind. "Our distributors are carefully selected based on numerous criteria, but paramount is their ability to meet the needs of our customers."
Lind also cited strong synergy with TC Services' portfolio of tooling, design and prototyping products, and their knowledge of the market. The new distribution agreement accelerates delivery to customers in the region while reducing shipping costs. Customers will benefit from responsive service and ready technical expertise to help them select, spec and utilize the right LAST-A-FOAM products for their particular application and project:
LAST-A-FOAM® FR-4500 Tooling Board is a family of tough, high-density polyurethane substrates useful in making master models, mold and foundry patterns, and composite tooling – applications in which a uniform, grain-free, dimensionally stable machine-able material is desired.
LAST-A-FOAM® FR-4700 High-Temperature Tooling Board is a rigid hybrid that accommodates temperatures of up to 400 degrees Fahrenheit. It is designed for prototype machining, prepreg composite layup tooling, vacuum-form tooling, tool proofing, pattern making and master model making.
LAST-A-FOAM® FR-7100 polyurethane foam offers a fine, consistent cell structure that is easily finished or painted using virtually any material. It is suitable for use as a composite core in a wide variety of applications.
"We look for distribution partners like TC Services who provide true service excellence, not simply warehouse ability," said Lind. "As an extension of our company, we count on our distributors to know their markets and the ins and outs of our products so they can solve their customers' challenges."
About General Plastics Manufacturing Company
Tacoma, Washington-based General Plastics has been a leading innovator in the plastics industry for more than 70 years. The company develops and manufactures rigid and flexible polyurethane foam products, which include its signature LAST-A-FOAM® brand series and build-to-print composite parts. Through its network of distributors, General Plastics exports products to 25-plus countries for the aerospace and defense, nuclear containment, composite core, prototype and modeling, construction, dimensional signage, testing, marine, solar and wind energy industries. Its products are manufactured according to ISO 9001:2008/AS9100C and meet such demanding quality systems as NQA-1, Mil-I-45208A and Boeing Company D6-82479. Visit http://www.generalplastics.com.
About TC Services, Inc.
Founded in 1975 and based in Bloomington, Minnesota, TC Services, Inc. is an independently owned value-added wholesale distributor of engineered polymers, materials and related equipment. The company provides products as well as process solutions for a wide array of manufacturing companies and specialty markets. Its stocked offerings include potting/encapsulation materials, assembly adhesives, sealants, conformal coatings, tooling resins, modeling boards, MRO chemicals, cleaning solvents, UV curing equipment, dispensing and application equipment, soldering equipment and soldering products. Visit http://www.tcservicesinc.com.