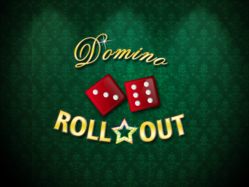 Hudson, NH (PRWEB) March 07, 2012
This new app will allow users to feel the suspense, thrill, and luck as if you were a high roller in Sin City. Whether you're feeling lucky or feel like taking a chance, play Domino Roll*Out anywhere by easily downloading the app to your favorite device.
Just "shake your device to roll the dice!" By shaking the device users can simulate the rolling of the dice, or you can simply tap the screen, whichever is preferred. Both options will allow the dice to roll. Once rolled, that number will represent the number of "dots" the player will remove from the round. The entire goal of the game is to earn money, fake money that is, by placing smart bets and using a bit of natural luck. Achieve "Roll-out," or zero dots, and collect the entire Jackpot!
Nothing on the market compares to Domino Roll*Out and we can't wait for the whole world to try their luck! Domino Roll*Out is now available in your iTunes App Store for only $1.99 and the Android Market for $1.99. Play today and feel the excitement!
To learn more about the game and how to play, please check out our instructional video right here or on YouTube.
Domino Roll*Out was created and copyrighted by TLR and developed by Zco Corporation.