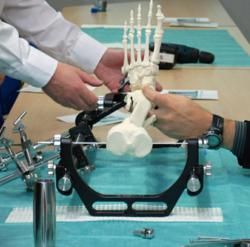 We are delighted that this independent study involving eight centres has supported and reinforced earlier studies showing that using STORM not only assists the surgeon to achieve anatomical reductions of challenging tibial fractures but that it also saves
Stoke, Staffordshire, UK (PRWEB UK) 7 March 2012
It was reported at the Annual Ortho Update Symposium in Hannover¹ that using STORM (the Staffordshire Orthopaedic Reduction Machine) to treat unstable fractures of the tibia shortened total operating time by 25% and reduced radiation exposure by 50%. Dr Michael Müller from the Klinik für Unfallchirurgie in Kiel, Germany co-ordinated the multi-centre study comparing tibial fractures reduced using STORM versus tibial fractures reduced using alternative methods.
STORM is a reusable surgical device that is used in the operating theatre to provide the surgeon with a simple but innovative approach to reducing challenging unstable lower limb fractures prior to fixation. STORM provides precise and controllable axial traction; a simple lock wheel system allows large and fine adjustments to correct rotation and the unique translation arms correct angulation and translation.
The risks of radiation exposure to medical staff are well documented. It has been reported that orthopaedic surgical assistants are generally at greater risk than the lead surgeon therefore it is desirable to employ methods and systems that minimise the exposure to radiation for all. Using STORM enables the surgeon to accurately control the six degrees of freedom and at each stage of the reduction process the STORM device holds the fragments securely minimising the need to take additional x-ray images to check the position. The STORM device then holds the reduction while the chosen method of fixation is applied minimising the need for the surgical assistant to assist in maintaining the reduction.
STORM is used to reduce fractures throughout the tibia including the plateau, shaft and pilon. As well as being used to reduce fresh fractures, STORM has also proven to be a valuable tool to reduce fractures where treatment has been delayed.
"We are delighted that this independent study involving eight centres has supported and reinforced earlier studies showing that using STORM not only assists the surgeon to achieve anatomical reductions of challenging tibial fractures but that it also saves time", commented Susan Hartman, Chief Executive Officer, Intelligent Orthopaedics Limited, the designers and manufacturers of STORM. "As we prepare to build on our current customer base to introduce STORM and its benefits to more surgeons, confirmation of the savings both to the budgets and the health and safety risks will be of interest to those affected".
Professor Peter Thomas, Orthopaedic Surgeon and co-founder of Intelligent Orthopaedics added "We have been using STORM in Stoke since 2000. Even from the very early prototypes it was evident that STORM not only saved theatre time but also minimised the need to take additional images, just to check the position. It is very gratifying to see that Dr Müller's study involving several centres has now been able to quantity both the saving in time and radiation exposure. Such data can often prove invaluable when needing to make a business case to your hospital to support the purchase of new equipment".
-ENDS-
About Intelligent Orthopaedics
Intelligent Orthopaedics Ltd (IO) specialises in the design, development, manufacture and distribution of orthopaedic trauma devices specifically for the treatment of long bone fractures. Its core patented product "STORM" (Staffordshire Orthopaedic Reduction Machine) is a reusable device that is used to realign fractures of the tibia prior to surgical fixation. STORM is currently in use in hospitals in the UK, Europe and the USA.
Based in Staffordshire, UK, the company has ISO13485 certification; all products are CE marked and have FDA clearance to market.
The company was spun out of Staffordshire and Keele Universities and the University Hospital of North Staffordshire in 2005 and is supported by venture capital funding, where the major investors is Mercia Fund Management.
For more information, please visit http://www.intelligent-orthopaedics.com/, call
+ 44 (0)844 8004405 or email info(at)io-uk(dot)com
For the USA only:
STORM FDA Listing Number: E337519