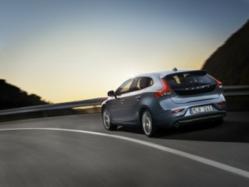 Volvo says new V40 will be rewarding to drive - but also have a long list of safety kit, too - not to mention a diesel with nearly 80mpg capability
(PRWEB UK) 6 March 2012
This is the first of a new breed of Volvo cars that features driver-centric technology. You know the sort – technology you can use instantly rather than reading the handbook. Twice.
"The all-new V40 is the first new model that is fully developed according to our human-centric, Designed Around You strategy," said the boss of the Volvo car company, Stefan Jacoby. "Charged with an outstanding set of high-tech features it definitely will give our toughest competitors a headache.
"The all-new V40 wraps you in a super-comfortable cockpit with outstanding ergonomics and technology that make you feel informed, focused and relaxed. This driver-centric approach is what modern Volvos are all about," added Stefan.
He's confident then, so what can business drivers expect of the new Volvo V40?
The first is outstanding driving dynamics, perhaps something you don't readily associate with Volvo. But the Swedish brand reckons the new V40 is agile and rewarding to drive.
It also promises to be rewarding on the pocket, too, if you're an SME owner looking at your company car policy to reduce the company car tax your business car drivers pay.
Interior of the new Volvo V40
Premium materials and fully graphic instrument cluster with personalised layout and information to make driving experience more intuitive
There's a new diesel engine with CO2 emissions of just 94 g/km – which puts it squarely in the 13% company car tax bracket for 2012/13. And an astonishing 78.5mpg on offer, which suggests the new Volvo will have highly competitive whole life running costs.
But there's a breadth of engines on offer, too – all providing fuel-saving start-stop tech whether manual or automatic – that also includes a turbocharged T5 petrol engine with 254 hp and acceleration from 0 to 62 mph in 6.7 seconds.
The all-new Volvo V40 features a class-leading safety and driver support package, as you would expect, including Volvo's groundbreaking Pedestrian Detection with Full Auto Brake and world-first pedestrian airbag.
The latest development of Volvo's excellent City Safety low-speed collision avoidance system has been further developed to operate at speeds up to 31 mph (whereas on current models it's 19mph).
What's more, Volvo says it is gearing up its dealers for the V40 on sale later this year to make sure small businesses are welcome through the doors, with sales staff trained to provide information on whether you want to run the car privately or through the business, as well as special business car finance terms.
Source:
Business Car Manager: http://www.businesscarmanager.co.uk/volvo-takes-on-audi-a3-with-new-v40-hatch/