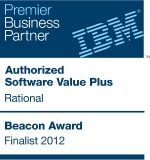 "We could not be any more proud to be recognized in this way by IBM for our leadership in the IBM Rational and Cloud partner community."
- John McDonald, CloudOne CEO
Chicago, IL (PRWEB) March 07, 2012
CloudOne, the leader in Software-as-a-Service, Virtual Private Clouds and Managed Services for IBM Rational customers, has been named a finalist for the 2012 IBM Beacon Awards.
The Beacon Awards are IBM's highest honor for partners, and of the 100,000-plus companies in PartnerWorld, only a handful are given each year. CloudOne was named a finalist in the "Cloud Builder" category, which recognizes partners using IBM technology to construct the best in cloud services.
"We could not be any more proud to be honored in this way," said John McDonald, CEO of CloudOne. "We're thrilled that IBM has recognized our leadership in the Rational partner community, and look forward to continuing to be one of the best 'Cloud Builders' in the industry."
CloudOne helps customers save money, scale development dynamically to meet changing business needs, and unites their vendors, contractors and employees in a single, common, global Virtual Private Cloud, custom-built to their specifications. CloudOne is based in suburban Chicago, Illinois.