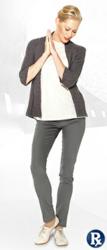 Peachtree City, GA (PRWEB) March 05, 2012
SIGVARIS' most extensive medical line, The Select Comfort Series, is gaining new legs as the line expands its product offering to include petite and plus size products.
On March 5, the petite products will be available in calf-length, thigh-highs and pantyhose for women with small and medium ankle sizes and a petite stature. At the same time, the plus size pantyhose will be available for plus size women and men, as well as expectant mothers with small, medium and large ankle sizes.
The Select Comfort Series is available in several open and closed toe styles. The products are available in 20-30mmHg and 30-40mmHg compression levels and feature a unique two-way stretch that makes this product very easy to don and remove. The women's products are available in Natural, Suntan, Crispa and Black shades.
The Select Comfort Series also features products for men. The fashionable ribbed design gives men the option of wearing calf-length or thigh-high products that look similar to regular socks with all the health benefits of medical compression stockings. Men's products are available in Dark Khaki and Black. Non-ribbed open toe products for men are also available in Crispa.
Products with graduated compression are tightest at the ankle and feature less compression going up the leg. These products help fight the force of gravity and improve circulation. Wearing products with graduated compression may help prevent a Deep Vein Thrombosis, as well as help prevent venous disorders such as chronic venous insufficiency. The Vascular Disease Foundation estimates that at least 20 to 25 million Americans suffer from varicose veins.
People who experience heavy, tired or aching legs, cramps, swollen ankles, spider veins or varicose veins should talk to their doctor about graduated compression stockings for relief. Some of the biggest risk factors for venous problems include long distance travel, being over age 40, pregnancy, obesity, a sedentary lifestyle, surgery or trauma, heredity, or use of hormone medications.
Learn more about leg health and benefits of graduated compression socks and hosiery at http://www.sigvarisus.com.
About SIGVARIS
SIGVARIS® North America is part of an internationally active medical device group headquartered in Winterthur, Switzerland that focuses on the development, production and distribution of medical compression garments, including hosiery and socks. With distribution in more than 50 countries on six continents, SIGVARIS is recognized as a global industry leader in the area of compression therapy for the management of chronic venous disorders. Our US manufacturing plant is located in Peachtree City, GA. For more information, please visit http://www.sigvarisus.com. SIGVARIS, LIFE FOR LEGS and the leg icon are trademarks of SIGVARIS AG in Switzerland and are registered in many countries worldwide.