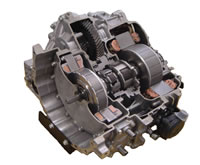 Los Angeles, CA (PRWEB) March 06, 2012
JH-Workshop.com announces a new event focused on a growing trend due to high magnet prices. AC Induction & PM-AC Synchronous Design Workshop for Electric Vehicles is a three day workshop that will take place in Los Angeles, CA on April 17-19, 2012. The event will be hosted by motor expert Jim Hendershot. A discount of $150 is in effect until March 16, 2012.
With the price of NdFeB magnets having increased significantly since 2008, there is a growing trend to replace PM-AC with AC induction machines in hybrid and purely electric cars. During this three day workshop, the design and performance of these two types of machines will be compared.
Other key areas of discussion will include understanding the impact of temperature rise on motor design and advanced rotor and stator cooling techniques.
The first two days cover a general review of theory and design; the final day consists of a team oriented interactive design session using a provided software tool.
This workshop is intended for beginners and experienced motor designers.
For full details, please review the agenda for this event, available online at https://www.jh-workshop.com/docs/evagenda.pdf.
Cost and Registration
Sheraton Gateway at Los Angeles, CA
A discount of $150 is currently in effect. Until March 16, 2012 only, the cost per registration is $1249 USD. This includes printed manual, refreshments, lunch, and parking voucher.
A group rate, for 3 or more individuals attending from the same organization, is also available.
To register, visit https://www.jh-workshop.com/register/ or contact info(at)jh-workshop(dot)com.
About Jim Hendershot
Jim has over 40 years' experience in the field of manufacturing and designing electric motors.
With past key employments at United Technologies, General Motors, Clifton Precision, Berger Lahr & Pacific Scientific, he has designed hundreds of motors. He has been honoured by associations such as IEEE and SMMA.