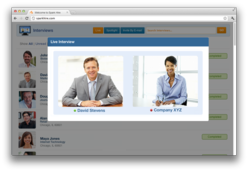 From the first impression to real-time face to face communication, Spark Hire is the premiere way to recruit and acquire talented professionals.
Chicago, IL (PRWEB) March 05, 2012
Hiring managers, rejoice! The troubles associated with scheduling, arranging and conducting interviews have come to an end. Spark Hire, a new video job platform that launched just three weeks ago, is offering video-based interview services that give companies a quicker, easier and cost effective way to acquiring talented professionals.
Spark Hire does this by streamlining the traditional interviewing process. Currently, most companies are stuck finding qualified talent by investing huge amounts of time and money in reviewing hundreds of resumes followed up with preliminary first round interviews. Spark Hire changes all of that by using a more simplified approach supported by a plethora of free online video services.
One of these services, the Profile Video, helps companies identify potential candidates quicker and more accurate than ever before. The Profile Video is a 60 second video, recorded and self-directed by job seekers and consultants in which they introduce themselves to companies and demonstrate their communication skills, candor and creativity. The Profile Video is submitted with their applications to companies looking to hire. Companies can then watch these videos to determine if an applicant is a potential fit.
With a group of potential candidates, companies have the option to screen them by using Spotlight Interviews. This is a one-way interview in which companies send multiple questions to qualified candidates in an attempt to learn more about them. Applicants then respond to these questions with 60 second video answers. Companies can watch the video responses at their convenience and determine which candidates are the top prospects for the position. Best of all, companies are no longer put in the awkward position of continuing interviews with candidates they know will not work out.
Companies can even interview their top prospects from their own computer. Spark Hire offers a dynamic, cloud-based solution for Live Online Interviewing in which hiring managers can interview a candidate through a real-time, split-screen video feed. This split screen interview is recorded and available for playback whenever needed. Often times with traditional interviews, many top candidates are lost in the hiring process due to company budget constraints and scheduling conflicts. Companies can even send e-mail invitations for online interviews to pre-existing candidates who have not signed up on Spark Hire yet. Live Online Interviewing puts companies face to face with their top prospects while eliminating all of these constraints. They are able to connect with red hot talent while still being green.
Spark Hire's simplified approach to interviewing not only saves companies time and money but also gives them a better look at their applicants. "We bring face to face interaction into every phase of the talent acquisition process. A resume or static profile just can't convey a candidate's true and often times, best qualities," said Josh Tolan, CEO of Spark Hire. "Integrating video with traditional aspects of the online job market creates a dynamic and ultra-personal environment. From the first impression to real-time face to face communication, Spark Hire is the premiere way to recruit and acquire talented professionals."
Posting jobs, watching applicants' Profile Videos and conducting online interviews are all available to any company for free. Spark Hire is committed to accelerating job growth by providing companies nationwide with an easy to use and cost effective way to acquiring their next employee.
For media relations, questions or comments please contact:
Adeel
Phone | (847) 780-7807
E-mail | PR(at)sparkhire(dot)com
http://www.sparkhire.com
###