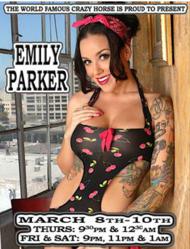 San Francisco, CA (PRWEB) March 05, 2012
The Crazy Horse, a gentlemen's club on Market Street in San Francisco, is excited to announce the limited performance of the beautiful and tattooed adult film star Emily Parker from March 8 to March 10.
"Emily Parker, whose famous for adult movies like Scalp, The Milgram Experiment and Oral Fixation, will be performing every night from March 8 to 10", David Sovey of The Crazy Horse said. "On March 8, her shows are at 9:30 p.m. and 12:30 a.m. and on Friday and Saturday, see her at 9:00 p.m., 11:00 p.m. and 1:00 a.m."
Emily Parker, a porn star who is known as the tattoo and piercing queen of the adult entertainment film world, is famous for the large wings tattooed on her back.
The Crazy Horse is the premier "all-nude" gentlemen's club in the San Francisco Bay Area. The night club features fully nude adult entertainment areas to suit anyone's fantasies.
The main stage features world renowned, fully nude showgirls who are consistently awarded the best adult entertainers of the year. Visit the main stage for a taste of the evenings' events and enjoy a fully nude lap dance with one of the beautiful dancers or move to the feature room or couch room for a more intimate experience.
The Crazy Horse also hosts birthday or bachelor parties. The event package includes admission for the birthday person or bachelor and 10 guests, an autographed 8-by-10 glossy photograph of the bachelor party or birthday person with the feature performer for the night and a free XXX DVD or Crazy Horse T-shirt for everyone in the group. As a special bonus, the bachelor or birthday person can be pulled onto stage and incorporated into the action. Additionally, book the exclusive Private VIP room to make the strip club experience a memorable one.
Check out The Crazy Horses' interactive website to view dancer bios, special events, a list of its awards or to sign up for access to the night club's amenities. Members can send private messages to favored showgirls and keep up with the current news at the club, which is updated daily. The Crazy Horse also has several promotions and discounts listed on the website.
For more event details or information about The Crazy Horse, call at 415-771-625, view the gentlemen's club on the web at http://www.crazyhorse-sf.com or visit 980 Market St. in San Francisco.
About The Crazy Horse
The Crazy Horse is a gentlemen's club that specializes in adult entertainment and bachelor parties in San Francisco. The club offers fully nude dancers and lap dances, as well as VIP rooms for more intimate experiences. Crazy Horse also regularly features popular adult stars on stage.