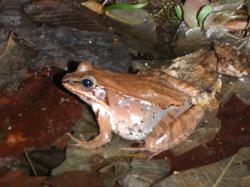 You, your family and your neighbors can help save these species by becoming citizen scientists
Silver Spring, MD (PRWEB) March 09, 2012
Take advantage of Daylight Savings Time and "Spring Forward" for Amphibians at an AZA-accredited zoo or aquarium near you.
"You, your family and your neighbors can help save these species by becoming citizen scientists." said Dr. Paul Boyle, AZA's Senior Vice President of Conservation and Education. "Visit your local AZA-accredited zoo or aquarium to get involved."
Zoos and aquariums across the country held events and activities to 'spring forward' into raising awareness about amphibian conservation. Events included live encounters with amphibians, informative amphibian exhibits, programs on "frog friendly" backyards, zookeeper talks about amphibian ecosystems, crafts, contests, games, prizes, and all kinds of family fun. Find the AZA-accredited zoo or aquarium near you at http://www.aza.org/findzooaquarium.
Volunteers can also take the opportunity to "Spring Forward" for the amphibians in their own community through FrogWatch USA, the flagship citizen science program of the Association of Zoos and Aquariums (AZA).
Between the months of February and August, individuals and families have engaged in amphibian conservation and management by reporting the calls of frogs and toads heard in their community wetlands. Previously abundant amphibian populations have experienced dramatic population declines in the United States.
Observant FrogWatch USA volunteers can help scientists understand the scope, geographic scale, and cause of these declines. The data may be used to describe local species diversity, detect rare and non-native species, suggest shifts in species diversity, range, and seasonal timing, and inform the development of land management strategies.
Volunteers are trained to identify local frog and toad species by their calls and how to collect and report their findings accurately. Chapters engage people in both science and conservation in such a way that each volunteer is empowered to play a real role in the scientific process. To learn more about FrogWatch USA and how to get involved, visit http://www.aza.org/frogwatch.
Take part in the amphibian conversation by visiting FrogtWatch USA on Facebook and Flickr to post your amphibian photos, stories, and videos.
There are currently over 40 FrogWatch USA Chapters across the country, mostly hosted by AZA-accredited zoos and aquariums. To see a complete list of chapters, visit http://www.aza.org/become-a-frogwatch-volunteer.
Founded in 1924, the Association of Zoos and Aquariums is a nonprofit organization dedicated to the advancement of zoos and aquariums in the areas of conservation, education, science, and recreation. Look for the AZA logo whenever you visit a zoo or aquarium as your assurance that you are supporting a facility dedicated to providing excellent care for animals, a great experience for you, and a better future for all living things. The AZA is a leader in global wildlife conservation, and your link to helping animals in their native habitats. To learn more, visit http://www.aza.org.