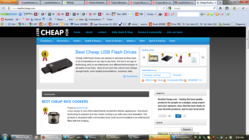 Now everyone can buy the best for the cheapest prices!
Los Angeles, CA (PRWEB) March 07, 2012
A California-based start-up is shaking up the internet industry by creating innovative online concepts. The company is launching its newest website – bestforcheap.com, offering reviews and information about the best cheap products and services for the lowest possible prices.
With the world economy in its current declining state, value has become the new shopping mantra. Even high-income households have adapted value-conscious shopping habits, squaring perfectly with millions of other American families who can't let go of the tough lessons learned from the Great Recession.
Consumers measure value not only by price and quantity but also demand the kind of quality they used to get in pricier products. What's showing up in the latest research is a broad-based caution—a sudden aversion to salespeople, a tepid response to ads focused on brand images, and a new interest in price-shopping.
Bestforcheap.com presents a great opportunity for anyone with an internet connection to access reviews about hard to find luxury items and best of breed service providers. In addition, they make it simple to find the best local deals, and the best daily deals that anyone can find anywhere online. The advantages of BestforCheap.com for the consumers are obvious:
Time is Money: Often, time matters even more than money. That is why BestForCheap.com puts a lot of effort into making sure that consumers can easily find the information about the product or the service that is sought as quickly as possible. The intuitive design of the site allows for a quick scan through thousands of products. Likewise, product categories make it easy to browse through the sections that are of interest to the customer.
Knowledge is power: One of the main reasons consumers use the Internet is for fast and easy access to information. At BestforCheap.com, the team has dedicated themselves to providing shoppers with the information they need to make important purchasing decisions. Reviews feature in-depth product information and photos wherever possible providing comparisons to simplify the decision making process.
For Example at BestforCheap.com find the Best Cheap USB Flash Drives
to
The Best Cheap Vacuum Cleaners
# # #
For more information, or to schedule an interview with BestforCheap founders,e-mail Adam at adam(at)bestforcheap(dot)com