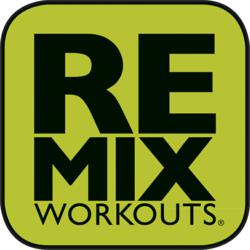 A great full-body workout in about 30 minutes!
Seattle, WA (PRWEB) March 07, 2012
After years of teaching boot camp classes, Remix Workouts delivers a training app that guides the users with over 25,200 different exercise combinations featuring real-time video and audio instructions.
Exercisers often get discouraged because they don't see the expected results. Not losing weight, not getting in shape, simply being bored with their workout routines. They give up. The Remix Workouts Fitness App unlocks new moves as users progress, providing variety and keeping the workouts challenging. For beginners, the app includes exercise modifications to adapt to their fitness level. The 3 circuit workouts are complete, always different, short, portable, ideal for small spaces and do not require a gym or specialized equipment.
Testers said it best: "Love it!"
"It's fun!"
"You've taken all the guesswork out of what moves to do to make an effective workout."
"I love the structured variety."
"I like that you do not need much room or fancy equipment."
"Challenging, yet manageable at the same time."
"It's a great format and a darn sweaty result!"
"It's quick, intense and thorough."
"…keeps me mindful of what I put in my mouth. I don't want to undo my good work!"
"I can start where I'm at and push myself to the next level of fitness"
The Remix Workouts Fitness App generates a unique session each time and plays video clips and audio instructions non-stop as users work out. A preview of the circuits is displayed in the Today's Workout screen. The circuit format keeps heart rates up for a challenging session. Simple buttons allow users to select different moves to fit their needs and the interval settings let them change the timers to adapt the workout's intensity to their fitness level. The Coming Up feature announces the next move in the circuit. Each combination targets multiple muscle groups giving exercisers a complete workout. The timers and progression bar show users how much time is left. To keep it interesting, the app unlocks new moves as rewards and expands the workout choices. Users also hear motivational words of encouragement and fitness wisdom, some fun, some serious, to inspire them in between circuits. To keep the workouts safe and efficient, the app gives good form reminders and modifications to let users adapt the moves to their skill level. A warm-up and cool down are also included in the app as they are always part of a complete workout. Users can opt out if they prefer to perform their own pre and post workout routines.
The Remix Workouts Fitness App will maximize users' workout time. Increase endurance, strength, balance, and flexibility. No more excuses. No gym required. Exercisers can enjoy a total body workout in their own living room, hotel room, or at the park.
Download the best fitness app and take advantage of 2 FREE workouts
Learn more about Remix Workouts at http://www.RemixWorkouts.com.
For more information, please contact:
France Marien
Owner & Creator of Remix Workouts
Certified Fitness Instructor
http://www.RemixWorkouts.com
206.367.4896
info(at)RemixWorkouts(dot)com
About Remix Workouts: Remix Workouts is a one-woman fitness company offering multiple classes in the Seattle area, providing cardio, strength, balance, and flexibility training through variety, intensity, and consistency.