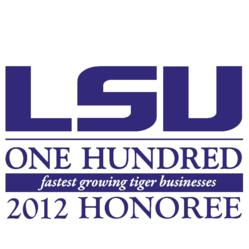 "Medistar Home Health is indicative of the Tiger-led businesses that we are looking for to show other Tigers from every college on campus what they need to do to be successful," said Lisa O'Beirne, director of development for SEI. "We congratulate them on
Baton Rouge, LA (PRWEB) March 05, 2012
Medistar Home Health has been recognized for its dynamic success by being selected as one of the LSU 100: Fastest Growing Tiger Businesses. The LSU 100 celebrates the success of former LSU students and recognizes the impact of LSU on the local, regional and national economies.
Medistar Home Health's commitment to making a difference in home health and serving the people of Louisiana continues to set it apart as a leader in the state's healthcare community. LSU alumnus, Beth Denton, Medistar's Owner and CEO, is pleased to be honored by her alma mater and have the opportunity to share her insights for successful leadership with LSU students.
"It is rewarding to be recognized by LSU for the accomplishments of our dedicated team of professionals at Medistar Home Health," said Denton. "As Louisiana's only home health agency to have used Electronic Medical Records nearly five years for securely communicating vital healthcare information to our patients' physicians, this recognition motivates us to continue to be an innovative leader in the healthcare community."
The LSU 100 is co-hosted by LSU and the Stephenson Entrepreneurship Institute. Honorees must have been in business five or more years; have verifiable revenues of at least $100,000 in 2008; have a former LSU student as an owner, chief executive officer, president or managing partner; and operate in a manner consistent with the mission of LSU and SEI.
"Medistar Home Health is indicative of the Tiger-led businesses that we are looking for to show other Tigers from every college on campus what they need to do to be successful," said Lisa O'Beirne, director of development for SEI. "We congratulate them on this achievement and look forward to their continued success."
Medistar Home Health will be recognized at the LSU 100 Honoree Luncheon Friday, March 23 at the Renaissance Hotel in Baton Rouge.
About Stephenson Entrepreneurship Institute
The Stephenson Entrepreneurship Institute, an integral part of LSU's E. J. Ourso College of Business, utilizes the Stephenson Entrepreneurship Fellows Program, LSU Executive Education, Entrepreneurship Bootcamp for Veterans with Disabilities, and the Distinguished Entrepreneur Speaker Series to address the challenges of entrepreneurship and to positively impact students, the regional economy, the state of Louisiana and the nation. For more information, visit sei.lsu.edu or call 225-578-0313.
About Medistar Home Health
Medistar Home Health is a Medicare-certified home health agency and has been a member of the National Association for Home Care & Hospice and the HomeCare Association of Louisiana for years. Medistar Home Health has been serving Louisiana patients in the familiar surroundings of their homes since 1983. "Our mission is to make a positive difference in the lives of our patients, our healthcare partners, and our valued employees as we provide superior quality and passionate care, while adhering to the highest standards of excellence." To find our more, visit http://www.medistarhomehealth.com
###