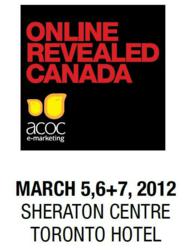 Toronto, ON (PRWEB) March 05, 2012
The 7th annual online marketing conference for tourism professionals begins today with an opening reception sponsored by Carlson Rezidor Hotel Group at the Sheraton Centre Hotel Toronto. Produced by digital marketing firm A Couple of Chicks e-Marketing, the two-day conference is comprised of keynote presentations and workshops around online tourism marketing.
On March 6th, the conference kicks-off with opening keynote presentations by Steve Irvine from Facebook Canada, followed by Nikki Germany from Google Canada and Tom Gierasimczuk, Editor-in-Chief for Marketing Magazine in a candid and insightful interview with Nikki Germany. The afternoon session features keynote Leonard Brody of Clarity Digital Group taking about how the web and social media have fundamentally changed our behaviours.
Over 500 attendees are registered to attend representing a wide variety of travel suppliers, hotels, hotel brands, destination marketing organizations, online marketing suppliers and web developers. The conference includes the latest techniques in online tourism marketing and how to master them in workshops presented by industry experts from Tripadvisor, Miles Media, Google, A Couple of Chicks e-Marketing, gShift Labs and T4G to name a few. Online Revealed Canada is held in conjunction with the Hotel Association of Canada Conference.
Online Revealed is also home to the 2nd annual Canadian e-Tourism Awards presented by Google, with awards sponsored by Miles Media, VIA Rail, and T4G. The awards highlight excellence in marketing tourism online in Canada, and are submitted by the industry, and voted on by the Canadian e-Tourism counsel comprised of volunteers from Provincial organizations across Canada. The awards will be presented at a special luncheon during the Online Revealed Conference on March 6th.
"We are excited this year to announce that 14 Canadian DMO's, PMO's and Visitor Bureaus have opted in to participate in a ground breaking study that will benchmark online performance of Canadian destinations, against each other as well as against other international destinations," said Patricia Brusha, Co-Founder of Online Revealed. "We are working with Miles Media and Tripadvisor to set a standard for measurement of ROI in web marketing, including tactics such as search and social media marketing for destinations, and we look forward to making this report a standard in measurement for the industry." The report was offered to all registered DMO's, PMO's and Visitor bureaus. Highlights of the report will be presented in a session at the conference.
Registration is still open for last minute attendees http://www.onlinerevealed.com/register_now.php.
About Online Revealed:
The Online Revealed tourism marketing conference provides travel and tourism professionals with unique and innovative online marketing education, with an agenda that includes educational workshops, keynotes and panel discussions, all driven by the industry for the industry. The event is produced by leading online marketing firm, A Couple of Chicks e-Marketing, http://www.acoupleofchicks.com in association with Big Picture Conferences. Online Revealed Canada is an annual Canadian conference with a mission to educate the tourism industry to be successful on the World Wide Web. Visit http://www.onlinerevealed.com for more information.