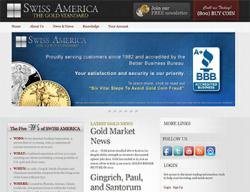 Phoenix, AZ (PRWEB) March 06, 2012
With millions of Americans thinking about how to move their assets out of harm's way this year, America's most reliable long-established tangible asset company has just launched their redesigned website.
SwissAmerica.com is already a popular, financial news and education website with information about buying gold and silver coins and precious metals IRAs. The new website offers more multimedia, learn-at-your-own-pace tools, a daily podcast featuring breaking news, over-the-horizon analysis and help from a team of specialists.
"Smart money follows good ideas. We designed SwissAmerica.com as a portal back to a better world of fundamental economic values, specified by America's Founders as a better way of saving for the future. Action follows wisdom," says CEO Dean Heskin.
"SwissAmerica.com simplifies the entire experience of investigating, buying, selling and tracking precious metals by providing brand new portfolio tools accessible online and from iPad and iPhone apps," says Mr. Heskin.
"From day one, our goal has been to inspire Americans to rediscover gold," says author and Swiss America Chairman Craig R. Smith, who founded this highly-respected Phoenix-based firm in 1982. "Precious metals have become the best-performing assets of the new century and we chronicle the growing list of reasons at SwissAmerica.com daily."
Mr. Smith's 2001 book, REDISCOVERING GOLD IN THE 21ST CENTURY, was the first to accurately predict the beginning of a new long-term gold rush. Since then, gold prices have rocketed from $265 to over $1,700 an ounce.
"There is much wisdom to be gained from history about gold and money," says Smith. "The new SwissAmerica.com will also serve as a doorway to revisit the past. Thousands of pages from our extensive library are now searchable online."
"Gold Standard News Daily" is Swiss America's daily 60-second podcast covering breaking financial and gold market news and trends, which is produced by Real Money Perspectives editor David Bradshaw. "Gold Standard News Daily" also airs nationally twice daily on Talk Radio Network (TRN), home of The Savage Nation.
"We invite the public to join us online for a wealth of wisdom and 'big picture' economic analysis. We hope you'll find the peace of mind that comes from building a personal gold standard for yourself and family, as well as a vision to rebuild an honest money system in America - which politicians can neither create nor destroy," says Mr. Smith.
Swiss America's 30th anniversary newsletter, "Vote Gold 2012" is being offered free to the public this month to celebrate the launch of the new SwissAmerica.com. Call toll-free 800-289-2646 or visit online.